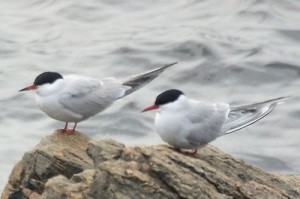 All eyes have been trained on the tern raft over the past few days as we have been deliberating; what species of tern are actually on there!? The raft is usually inhabited by Common Terns as they arrive on our shores earlier than Arctic Terns. However, after settling on the raft early this summer they then deserted and a new group of terns have now taken up residence. Having monitored them over the past week we have noticed that they're being more aggressive than usual towards any nearby predators, a trait of Arctic Terns. With the tern raft camera being out of use it's difficult to confirm what species they are, but we have been trying to figure it out by using the telescopes. The main areas to focus on when trying to distinguish between the two species are the beak and the tail. Common Terns have orange beaks with black tips and short bottom tail streamers whilst Arctic Terns have fully orange beaks and long bottom tail streamers. These differences may seem easy to decipher when looking at them in a book, but they're much harder when trying to focus on a moving tern a few hundred metres away! So with plenty of debating we are sure that the majority of the Terns are Commons, although we still think there are a few Arctics in there.
Elsewhere on the reserve the numbers of waders have been steadily increasing as they return from their summer breeding grounds. Counts have included 110 Redshank, 103 Curlew, 76 Lapwing, 17 Common Sandpiper and 13 Black Tailed Godwits. Wildfowl species have also been counted in high number this week, with 175 Mute Swans, 79 Red Breasted Mergansers, 85 Goosanders and 44 Goldeneye being counted today. A third species of tern was seen on Rossie Spit today as well, with 26 Sandwich Terns roosting there at high tide. Seen flying past the Centre this weekend have been 3 House Martins, a swift, 2 Buzzards and an Osprey.
Craig Shepherd,
Visitor Centre Assistant Manager.
Help protect Scotland's wildlife
Our work to save Scotland's wildlife is made possible thanks to the generosity of our members and supporters.
Join today from just £3 a month to help protect the species you love.
---
Preface
All eyes have been trained on the tern raft over the past few days as we have been deliberating; what species of tern are actually on there!? The raft is …