Here is a great story from locals George and Sheila McLuskey from Perthshire, who have kindly given permission for us to share their great story with you all.
"George and Sheila McLuskey got a surprise when they came home one evening recently. George got out of the car and, looking up, saw the gutter was smashed.
The broken gutter. as you can from the picture, even had fresh blood where something had hit the roof.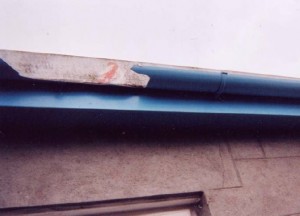 Sheila also got out, looked down and saw a large trout lying on the mat at the back door. George is a keen fisherman but they were puzzled to work out how the fish had arrived. Was it a flying fish? They are not known in Scotland! Then they spotted claw marks on the body. Had a cat got it? No cat could have hauled that fish around, certainly not up to the roof!
The only thing it could have been was an osprey, probably from nearby Loch of the Lowes, where they breed. Carting its fish supper back to feed its family, the bird must have found it too heavy so had dropped it on their house as it flew overhead. Just as well no one came out of the door at the time!"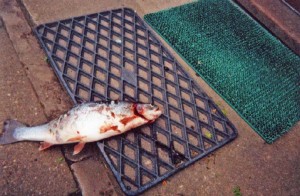 It is not unusual for ospreys to accidentally drop their catches on route, and the usually don't pick them up again as they dislike being grounded where they are vulnerable.  I also have had farmers ask my why they keep finding fish tails in their fields far from rivers- these had been dropped by the birds as they are inedible and they don't want them on the nest attracting flies.
Ranger Emma
Help protect Scotland's wildlife
Our work to save Scotland's wildlife is made possible thanks to the generosity of our members and supporters.
Join today from just £3 a month to help protect the species you love.
---
Preface
 Here is a great story from locals George and Sheila McLuskey from Perthshire, who have kindly given permission for us to share their great story with you all. "George and …