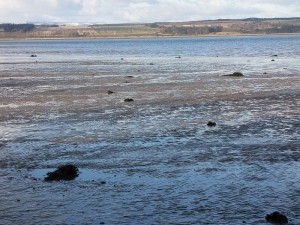 Of all the different habitats we have at Montrose Basin the mud is definitely the most obvious. At 750 hectares (or 1500 football pitches) the sheer size of the area can be fully seen when the tide is at its lowest. While most estuaries are shaped by the erosion and sediment deposits of the river and tidal activities that feed it, Montrose has been given its flattened shape through glaciations during the Ice Age and the Storegga Slide tsunami in 5000BC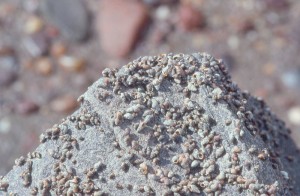 The tidal nature of estuaries makes the mud a very hostile environment to live in. Most birds and mammals are constantly on the move and more sedentary species must be able to survive both underwater and exposed to the air. Despite this, large numbers of invertebrates can be found in the mud and estuaries have been shown to be as rich in biodiversity as tropical rainforests. Invertebrate species that can be found at Montrose Basin include Mussels, Cockles, Winkles, Shrimp, Round worms, Corophium, and Hydrobia. As well as feeding the waders and wildfowl we're famous for, these invertebrate feed the Plaice, Flounder, and Sand Goby that attract Osprey and Seals to the Basin. The extra effort needed by the birds to keep up with the tide is well worth it though as 1 cubic metre of mud has been calculated to have the same number of calories as 14 Mars bars.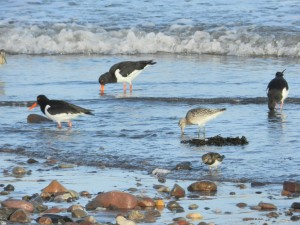 Low to mid tide is the perfect time to come (tide times can be found here) and see the different methods in which birds use to collect these invertebrate. Shelduck are the filter feeders of the wildfowl community, sweeping their bills side to side along the mud to collect small crustaceans on the surface. Like most ducks Eiders dive for their food, feeding exclusively on mussels which they swallow whole and crush in their gizzards. Curlew's distinctive long bills allow them to probe deep into the mud reaching prey that many other species can't. While they happily feed across the mud they tend to carry prey to the water's edge to wash before feeding. Oystercatchers tend to feed along the water's edge, where the prey is easier to reach, but their bills also have a unique adaptation which allows them to slip their bill in between the shells and cut the shell-closing muscles. Even the Carrion Crows here have adapted to food of the shelled variety and can be seen repeatedly dropping their prey from high up onto the rocks below.
Georgina Bowie, Visitor Centre Assistant
Help protect Scotland's wildlife
Our work to save Scotland's wildlife is made possible thanks to the generosity of our members and supporters.
Join today from just £3 a month to help protect the species you love.
---
Preface
Of all the different habitats we have at Montrose Basin the mud is definitely the most obvious. At 750 hectares (or 1500 football pitches) the sheer size of the area …