Probable sighting of Blue YD in Yorkshire!
There have been no egg developments on the osprey nest as yet today, BUT excitingly we have received information which leads us to believe that our pioneering two-year old from Angus, Blue YD, was spotted earlier in the week, on the Yorkshire coast!
As those of you who have studied the last batch of satellite data we uploaded will know, at 3pm BST (2pm GMT) on Monday 19th, Blue YD had crossed the Flamborough headland on the East Yorkshire coast and was flying across the southern outer edge of Filey Bay. This is an area that I know very well (and by shear coincidence had visited over the weekend), having previously worked for the RSPB at their Bempton Cliffs reserve – England's largest seabird colony. With my interest piqued I decided to do a bit more investigating…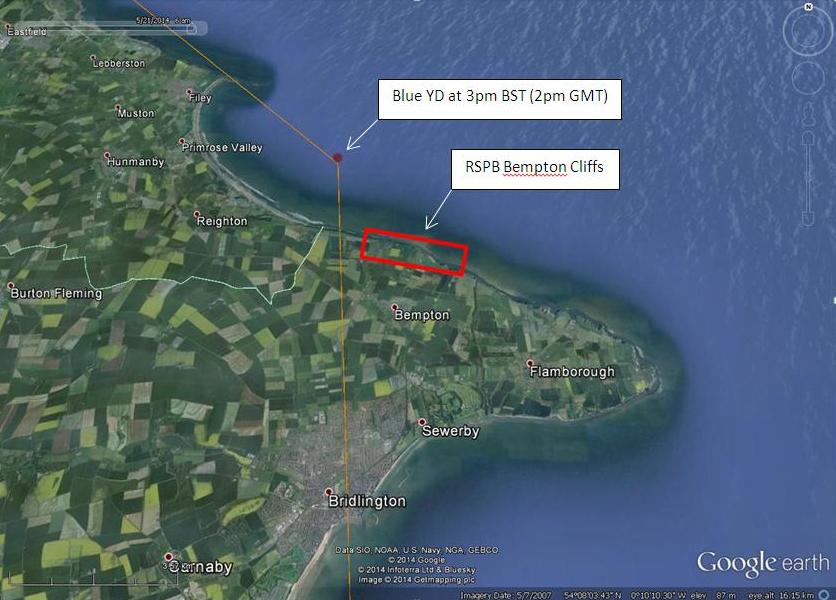 First I checked the Flamborough Bird Observatory website and lo and behold their daily sightings post for the 19th mentioned that an osprey had been seen near Bempton. So yesterday afternoon I called up the visitor centre at Bempton Cliffs to see if the staff & volunteers there knew anything about the sighting. They confirmed to me that an osprey had been seen on Monday afternoon but didn't have any more details. However, I persisted and after leaving a couple of messages I got a call back this afternoon from my former colleague, Keith Clarkson, the site manager at Bempton…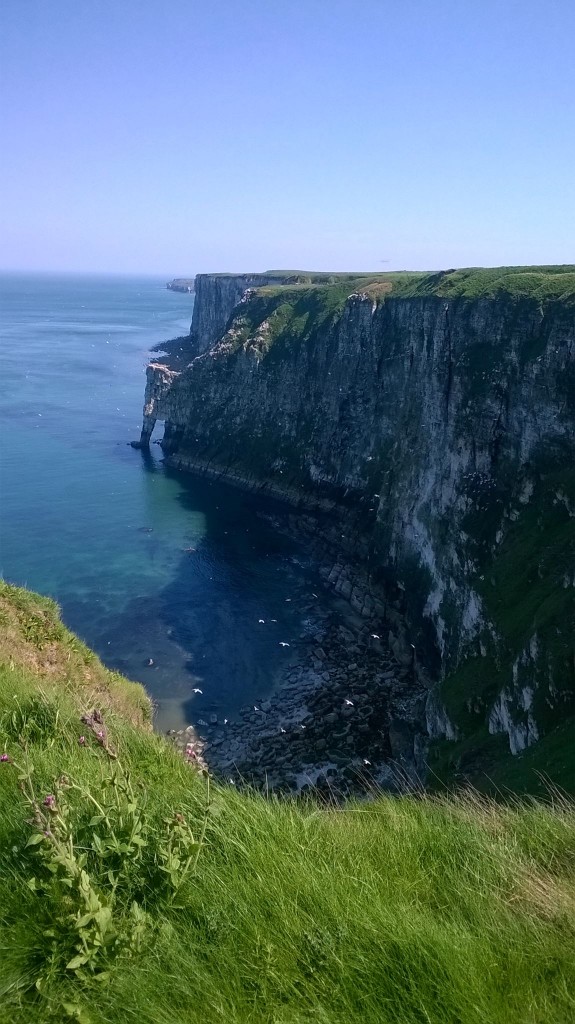 As luck would have it Keith was leading a guided walk along the clifftops around the time Blue YD was in the area and amazingly had seen an osprey flying out to sea in the direction of Filey Bay. Unfortunately the bird was travelling at some speed so Keith was unable to get a photo to confirm whether the bird was ringed or tagged.  However the timing and location fit almost exactly and the probability of there being more than one osprey in the vicinity at this time of year all point to it having been Blue YD.
The wonders of modern technology!
For more information on Bempton Cliffs go to http://www.rspb.org.uk/reserves/guide/b/bemptoncliffs/ 
Flamborough Bird Observatory also have their own website at http://fbo.org.uk/
We should have more data tomorrow, by which point Blue YD could well be in Scotland, so keep checking the osprey tracking page and of course we'll update you here on the blog as soon as we have any news, egg-related or otherwise.
Jonathan
 
Help protect Scotland's wildlife
Our work to save Scotland's wildlife is made possible thanks to the generosity of our members and supporters.
Join today from just £3 a month to help protect the species you love.
---
Preface
There have been no egg developments on the osprey nest as yet today, BUT excitingly we have received information which leads us to believe that our pioneering two-year old from Angus, …