Although the peregrines have not had any chicks this year the watch site is still open until the 15th of June providing some of the best views of peregrines in Scotland. However it is not just the resident pair that can be seen at the site. Over the past few months the staff and volunteers at the watch have been lucky to see a whole range of wildlife in the woods. From deer and foxes wandering through the trees, to buzzards, sparrow hawks, great spotted woodpeckers and a variety of other birds flitting over head. Our latest encounter with the residents of the reserve may well be one of the closest yet, and certainly for me one of the most memorable.
This morning Marcella and Emily, two of our peregrine volunteers, were manning the watch point with me when Marcella spotted something making its way down the slope and onto the path. The strange shape continued along and when I got my binoculars onto it I realised what it was. Right on the path not 10 metres from where we stood was a mink carrying a wood pigeon along in its jaws! It seemed to be struggling with the size of its catch and could not quite see us over the top of it. A few seconds later it spotted us and dropped its prize while it popped through a gap in the fence where it peered at us working out if we were any threat to it. Seemly it did not think much of us as it was soon back through the fence and walking up the path towards us with its pigeon. At 5 metres from us it went back through the fence and carried past us along the bottom path, but not before I got a snap of it on our camera (see below!).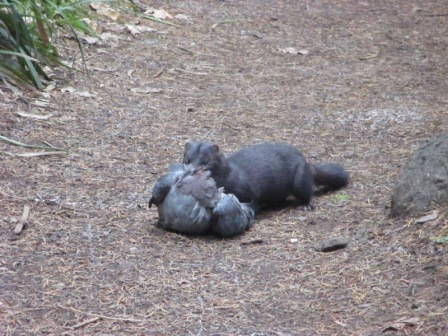 Definitely an interesting wildlife moment to start the day with! Hopefully we shall have some more stories from the reserve to report on soon.
Bye for now!
Alex Kekewich – Falls of Clyde Seasonal Ranger
Help protect Scotland's wildlife
Our work to save Scotland's wildlife is made possible thanks to the generosity of our members and supporters.
Join today from just £3 a month to help protect the species you love.
---
Preface
Although the peregrines have not had any chicks this year the watch site is still open until the 15th of June providing some of the best views of peregrines in …