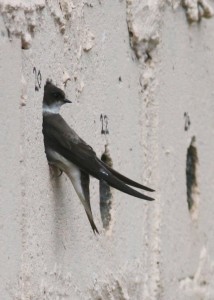 Over the past few weeks our staff and volunteers have been focusing their well-trained eyes towards the Visitor Centre windows and out onto the reserve, hoping for a glimpse of our fist migrants. Yesterday (5th April), finally saw that hard work paid off with the first Sand Martins seen flying over their breeding wall and around the Visitor Centre grounds. With Sand Martins being seen as early as the 21st of March in the local area (Murton Loch), it has seemed like a long wait! Although this arrival date is slightly later than we would expect (they usually arrive in the last week of March), it's still over a week earlier than the first sighting made last year. Last year's cold snap that started in March and went on into April delayed many of our summer migrant species, with Sand Martins not arriving until the 14th of April. Although not nearly as bad this year, the weather has still been slightly colder than usual and is probably the explanation for this year's somewhat delayed arrival.
Ospreys, as the second of our main migrants to arrive, are usually close to follow, with sightings expected around the beginning of April. Being larger and not so dependent on insect availability for food, their arrival dates are usually less affected by the weather, as proven by our first sighting on April 1st last year. With Ospreys having arrived as early as the 25th of March in the local area, we should be expecting a sighting any time soon. With the reserve here being so large, and the Ospreys feeding and resting across the whole reserve, it is, however, a possibility that we have thus far been unfortunate and missed the first arrivals. One Osprey that has arrived home is the resident female at Loch of Lowes known to many as 'Lady', who arrived back at the reserve on the 31st of March, for her amazing 24th breeding year. For all the latest updates of the goings on at Loch of Lowes just visit their Osprey blog at http://blogs.scottishwildlifetrust.org.uk/osprey/
Other sightings on the reserve over the last few weeks have included a Red Kite, seen at the Lurgies on the 24th of March and a Kestrel flying past the Visitor Centre on the 23rd. We are also seeing high numbers of waders and wildfowl species staying later on the reserve this year before they either head inland to breed or begin their migration north. Pintail numbers have continued to stay around 100 over the past month, with up to 56 Scaup and 4 Tufted Ducks also being counted. Numbers of Redshank, Curlew, Oystercatcher and both Godwit species have also been high with a small number of Greenshank also still using the reserve. There have been numerous Water Rail sightings, with the latest being today (6th of April), a Kingfisher on the 26th of March and a Blackcap at the Mains of Dun on the 5th of April.
For any further news on our arriving migrants and other sightings just keep checking the blog, or like us on Facebook at 'Montrose Basin Wildlife Reserve and Visitor Centre'.
Craig Shepherd,
Visitor Centre Assistant Manager.
Help protect Scotland's wildlife
Our work to save Scotland's wildlife is made possible thanks to the generosity of our members and supporters.
Join today from just £3 a month to help protect the species you love.
---
Preface
Over the past few weeks our staff and volunteers have been focusing their well-trained eyes towards the Visitor Centre windows and out onto the reserve, hoping for a glimpse of …