All is well with our ospreys at their usual nest today- so far no high drama. Not too far way though, an interesting visitor dropped in: Yellow HA a young satellite tracked bird from Roy Dennis's Highland Foundation for Wildlife. This bird is on migration home to Speyside, and dropped in to rest and relax on a part of our reserve – Craiglush Loch. Interestingly our pair showed no signs of agitation at all – proving they don't mind sharing fishing territory as long as 'visitors' don't get too close to the nest!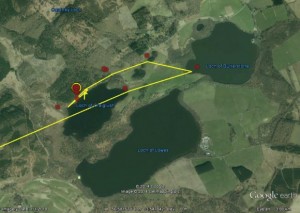 Our apologies if you noticed the webcam going a wee bit haywire yesterday – some children got a hold of the camera controls in the visitor centre! We try to move the camera view gently but we are all getting used to new joystick controls and it takes some doing!
More wonderful stories about strange objects being brought to osprey nests from our readers- keep them coming!
"The ospreys at Hellgate, Montana, have brought interesting objects to their nest. The tube of Colgate toothpaste was the most surprising. The most despised (by the female osprey) was a two-by-four, a heavy piece of construction wood that Stan managed to lug to the nest and seemed to like. It took Iris weeks to drag it to the edge, but she couldn't get it off the nest."  Amanda
 "At Dennis Puleston Osprey Foundation nest cam on Long Island, NY …we saw birds bring a lot of blue stuff; some nests we also saw were in Connecticut and at Woods Hole. One osprey pair kept a little blue teddy bear in the nest for the whole season, and other items seemed to be human feminine hygiene materials" Marty
 Q: What is all that industrial-sounding noise in the background on the webcam? The spot looks so idyllic, so the noise is unexpected.
A: I am not sure exactly what the noise you heard was. The area around Loch of the Lowes is a beautiful rural spot but can be very busy. There is a small road going along one side of the loch; there are working farms nearby with tractors ploughing this time of year, and there is an area of clear-fell forestry operations not too far away. It is also possible you might have been hearing wind interference on the microphone- this has been plaguing us this year and we apologise for the poor sound quality in windy weather.
Q: Are there other webcams at the Loch of the Lowes or plans for more?
A: Did you know we also have a live Red Squirrel cam based at the reserve, and there are two other live webcams provided by SWT too from Montrose and Falls of Clyde? Links to all of these can be found on our SWT homepage.
We are currently limited to two live streams from this reserve due to the expense and the limited capacity of our old fashioned rural phone lines. We do stream other views of the reserve when there isn't much action on the osprey nest.
Ranger Emma
 
 
Help protect Scotland's wildlife
Our work to save Scotland's wildlife is made possible thanks to the generosity of our members and supporters.
Join today from just £3 a month to help protect the species you love.
---
Preface
All is well with our ospreys at their usual nest today- so far no high drama. Not too far way though, an interesting visitor dropped in: Yellow HA a young …