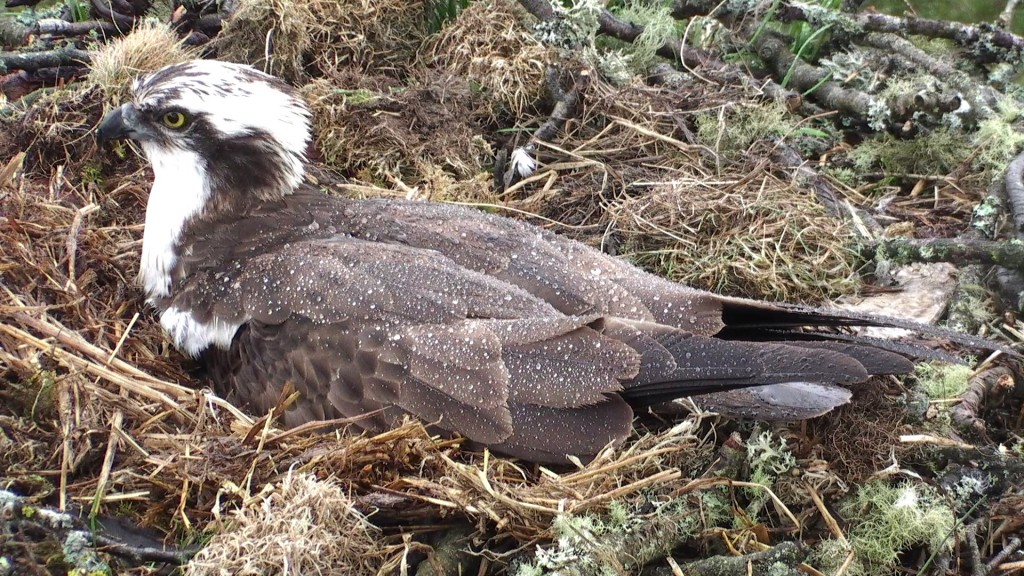 Our male osprey has been showing his dedication to his nest and mate, incubating a lot of time and being reluctant to let his mate take over despite the rain. On Monday night, he unusually sat on the eggs well into the hours of darkness for over 2 hours, and it was only his mate's strong insistence that made him get up. This is quite unusual as the female invariably incubates through the night- but no one seems to have told our male!
It is also interesting that he has been bringing in yet more material to shore up the nest – we think this is probably driven by his hormonal response to the site of the eggs.
Q: Why did the 3 eggs fail to hatch last year? Were they found to be infertile?
A: The three eggs were analysed and two were found to be completely infertile, and the third to have a few tiny cells inside which stopped developing after a few days. This means there was no fault in incubation, but that the birds fertility is low, which is most likely due to the female's age.
Q: The male bird was on duty but was standing on the edge of the nest eating a fishtail and not incubating the eggs.  How long overnight would the eggs be safe?  Is this normal?
A: Eggs can remain uncovered for a varying amount of time depending on the weather conditions. We don't believe this was long enough to cause any problems it was such a mild night.
Q:  I was wondering what might have happened to the other female who had been nesting with the male prior to lady's return this year. Have you spotted her, and do you know whether she found another mate or nest, and whether she in fact produced a clutch of eggs?
A: The short answer is: we don't know. She has not been seen again over the loch or nearby – though it is hard to identify her with any certainty as we did not have a good close view of her. She may have returned to another nest and laid eggs with another partner, or she may still be looking for a nesting opportunity- we hope she found one.
Q: When the chicks get ringed by your qualified staff, do they (the staff!) not get attacked by the parent ospreys when the chicks are removed from the nest?
A: All ospreys are vigilant in defensive of their young and nests, but this is mostly bluff and noise as ospreys are surprisingly docile compared to some other birds.  Some ospreys have been known to fly close to the climber's heads, but our birds tend to circle overhead, alarm calling, or sit nearby watching carefully. This is one of the reasons we keep the whole process to a minimum of time so the chicks can be returned safely and the time they are separated is kept to a minimum.  
Ranger Emma
Help protect Scotland's wildlife
Our work to save Scotland's wildlife is made possible thanks to the generosity of our members and supporters.
Join today from just £3 a month to help protect the species you love.
---
Preface
Our male osprey has been showing his dedication to his nest and mate, incubating a lot of time and being reluctant to let his mate take over despite the rain. …