Osprey and Webcam Update 26th March
Our apologies for the disruption to the osprey nest webcam again yesterday- our long suffering technician Michael deserves huge credit for working on it from 6.30am to 7pm yesterday to get it back on line. We share your frustration but the problems being experienced are not from any want of trying at this end- just when we think we have cracked it, something else comes up! Please be reassured we are doing everything we can, both here on site and at HQ to continue to improve the image quality and stability. We are still receiving fabulous images from the nest in the visitor centre , but the problems we've had  are  with uploading and streaming these to the internet , which our old fashioned rural phone lines are not coping well with.
Meanwhile in osprey news: there are more and more arrivals at UK nests, and the good winds over the last few days have been  a boon for migrating birds. It looks very likely that the second osprey seen over Loch of the Lowes on Monday was a passing bird on its way north, as it hasn't been seen again. Our male osprey continues to wait patently and tidying his nest- it is already looking very different from the grass covered platform he arrived too- lets hope his mate is impressed when she arrives!
Our male osprey by Carolyn Taylor March 2014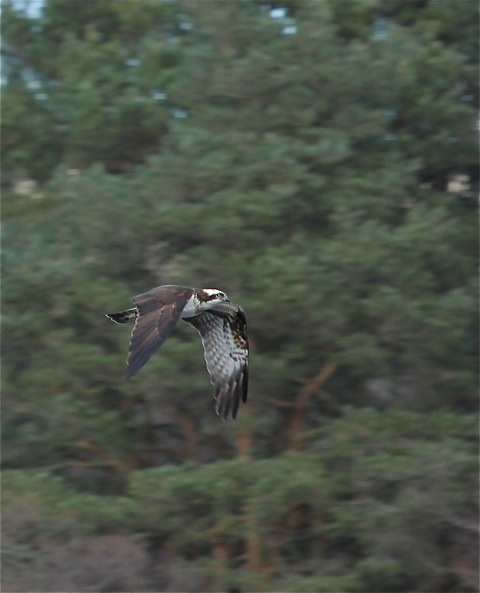 Back in Africa, our young bird Blue YD continues to remain on the coast, showing no signs yet of moving anywhere- his movements this week have been very localised around his favourite beach and perches on the dunes, with just a couple of trips inland to seasonal water holes. It must be comparatively quiet there now with so many adult birds having left!
We will keep you up to date with any important osprey news from the loch here and on twitter too- se @swtlowesranger
Ranger Emma
Help protect Scotland's wildlife
Our work to save Scotland's wildlife is made possible thanks to the generosity of our members and supporters.
Join today from just £3 a month to help protect the species you love.
---
Preface
Our apologies for the disruption to the osprey nest webcam again yesterday- our long suffering technician Michael deserves huge credit for working on it from 6.30am to 7pm yesterday to …