Wildlife Highlights of 2013
As the year winds down and we await the new year turning, it seems like a good time to look back and mention a few of the highlights of 2013 on the Perthshire reserves.
My personal highlights of 2013 have included:
Our beloved female osprey returning for a 23rd year – and laying four eggs- proving that this remarkable bird is always capable of surprising us!
Watching the delightful osprey chick Blue YZ grow and fledge, and following her first migration journey in such fascinating detail. My overriding image will be of a bird born in this windswept and rather soggy part of Scotland, sitting on sand-dunes at night in the Sahara- truly amazing!
My first ever sighting of beaver kits- and marvelling at how this species is making itself at home on the Lunan Lochs and creating new wetland areas with its dams.
Proving there is a  healthy (though shy)  population of Pine martens at Loch of the Lowes using camera traps. This technology has also given us some of our most delightful wildlife moments this year- see our Youtube channel at : http://www.youtube.com/user/swtlowesranger/videos
Finding an ancient archaeological artefact at our Balnaguard Glen reserve whilst drystone dyking- a  Neolithic  quern stone.
Being able to say that all 108 acres of the Tummel Shingle Island reserves were clear of the invasive weed Himalayan Balsam thanks to the countless hours of work hand pulling it over the last 3 years by staff and volunteers!
Being able to say that since our Perthshire Ranger Education Project started less than 2 years ago,  we have hosted 850 students on visits to Loch of the Lowes. From pre-schoolers, to Brownies and Scouts , to high school fieldtrips and post graduate student research, it has been great to facilitate nature based learning for them all- something I am personally very passionate about and proud of.
Lastly, I would like to say a BIG THANK YOU to people who have been instrumental in all this success: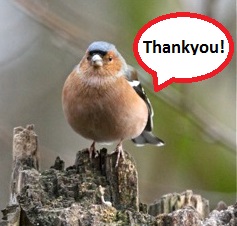 My fellow staff at Loch of the Lowes- we are a very small and dedicated team!
The volunteers who have contributed so many hours to so many aspects of our work- did you know they help with everything from Osprey protection watch, to staffing the shop, to helping host education visits and doing the hard practical work on reserves- without them we would be lost!
The residential volunteers who I host as trainees over the year- each has given a full time commitment for 3 months and has brought energy enthusiasm and new ideas to the team- it has been a pleasure to work with you !
Everyone who sent in osprey and wildlife questions, and who wrote, emailed and tweeted about our work- thank you all for joining in and we hope you keep enjoying what we do.
 Thanks for reading and have a great new year!- lets hope 2014 is great for wildlife!
Ranger Emma
Help protect Scotland's wildlife
Our work to save Scotland's wildlife is made possible thanks to the generosity of our members and supporters.
Join today from just £3 a month to help protect the species you love.
---
Preface
As the year winds down and we await the new year turning, it seems like a good time to look back and mention a few of the highlights of 2013 …