The world is your oyster (mushroom)
Whilst walking through the reserve last Wednesday I noticed some fungi growing up the side of a sycamore trunk. My fungi ID isn't great but I had an idea of what it might be and after asking a few folk on Twitter (we're @TheFallsOfClyde if you'd like to follow us) we confirmed it was oyster mushrooms.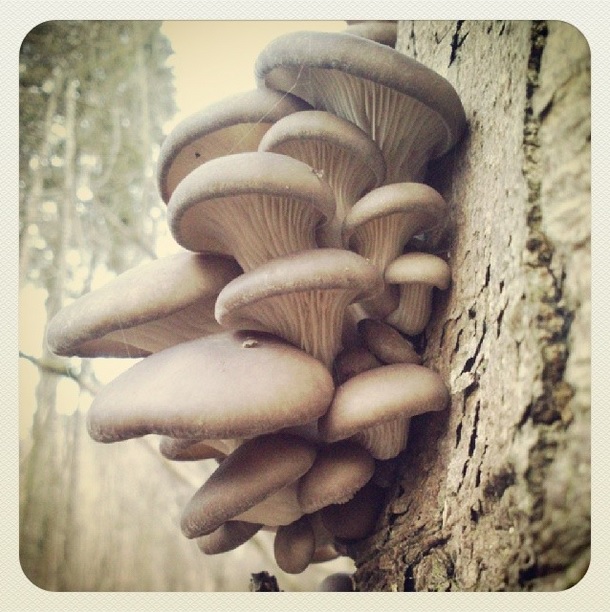 They're very common, usually found on deciduous trees (especially beech) and can be found all year round including in the middle of December! They're almost unmistakable with a kidney-shaped, beige to grey cap, short stem with white gills and white flesh. Some lack any stem and they are known as the pale oyster. The good news is that all oyster mushroom species are edible; the branching oyster even tastes of coconut! The thing to watch out for is their maggot-to-mushroom ratio; it can be quite high.
My favourite mushroom book is the River Cottage Handbook No.1 – Mushrooms by John Wright (it would make a lovely Christmas gift). It comprises of ID and recipes and his recipe for oyster mushrooms is to accompany them with lemon and thyme. He suggests most mushrooms can be served this way. They're good on hot toast or with grilled fish or chicken. All you need is oyster mushrooms, butter, thyme, lemon, salt and pepper. Fry them up and serve piping hot.
One other interesting thing about oyster mushrooms is that they get their nitrogen from nematodes that live in the wood. These poor unsuspecting worms are rendered immobile by tiny droplets of toxin given off by the mushrooms. Fibres from the mushrooms then search out these paralysed victims enter their mouths and suck out their nitrogen rich fluids. It's totally amazing, if not a bit nasty but nothing for us to worry about.
Laura Preston – Scottish Wildlife Trust, Falls of Clyde Ranger
Help protect Scotland's wildlife
Our work to save Scotland's wildlife is made possible thanks to the generosity of our members and supporters.
Join today from just £3 a month to help protect the species you love.
---
Preface
Whilst walking through the reserve last Wednesday I noticed some fungi growing up the side of a sycamore trunk. My fungi ID isn't great but I had an idea of …