Over the past few weeks we have been undertaking some rather important work on creating a new badger viewing area. We've been watching badgers at the current viewing area for coming up to 10 years and we feel it is time to give them a break. Also, the way their sett has evolved means that viewing isn't at its optimum. We're very fortunate at the Falls of Clyde because we have many setts and we decided to go back to one that the Rangers used years ago.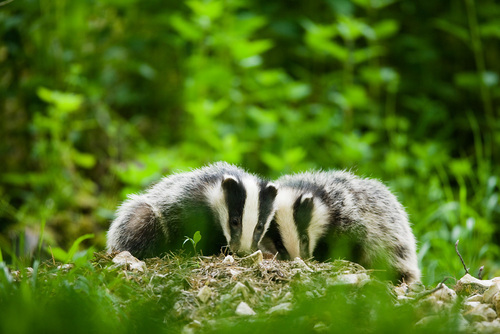 The patch of woodland where the sett resides is rather dense and primarily consists of silver birch and oak. In order to allow for the trees to flourish and to allow light to reach the ground layer we have been doing some thinning. When we first began a few weeks ago my volunteers asked why I couldn't just go in with my chainsaw, why did they have to do it with hand tools.  I told them that because of the proximity to the sett and the time of year, we would have had to have applied for a special licence from SNH.
You see this time of year is not only important for us (it is Christmas after all!) but it's also important for badgers. Reproduction in badgers is unusual and involves a phenomenon called "delayed implantation". Badgers mate at any time of the year but the embryo does not implant into the womb and start growing until the winter. This means that all cubs are born at the same time of year – mostly from January to March.  The system of delayed implantation maximises the badger's chances of being successfully mated and also ensures that cubs are born at the best time of year for survival.
Laura Preston – Scottish Wildlife Trust, Falls of Clyde Ranger
Help protect Scotland's wildlife
Our work to save Scotland's wildlife is made possible thanks to the generosity of our members and supporters.
Join today from just £3 a month to help protect the species you love.
---
Preface
Over the past few weeks we have been undertaking some rather important work on creating a new badger viewing area. We've been watching badgers at the current viewing area for …