Thrushed Into the Limelight
Woken up one morning to see your garden stripped bare, the berries that were there only hours earlier vanished? Thought something strange was going on? No need to panic! It's likely to be the handy work of Fieldfares and Redwings, two thrush species that migrate to the UK from Scandinavia in Autumn. Their main reasons for carrying out this migration are more plentiful food supplies,but also, believe it or not, warmer weather. The two species move around in large, often mixed, flocks also containing blackbirds and other thrush species. Migration begins in October, with the majority of birds arriving in the UK by mid November, some being passage migrants that move on to mainland Europe and others remaining here until Spring.
Both species are quite shy and easily scared when feeding, so are best viewed from a distance. When feeding in trees they will generally face in the same direction, maintaining a constant chatter throughout. When feeding on the ground, they work their way up wind with each bird freezing, standing erect and gazing around for danger every so often.  Whenever they are disturbed they fly off downwind and will regroup elsewhere. At their summer breeding grounds the species will feed on snails, worms, spiders and insects such as beetles, grasshoppers and flies. It's not until Autumn, when berries start to ripen that they move to our shores and strip the likes of Hawthorn, Juniper, Holly and Rowan bare. It's their tendency to feed in such large numbers along with their voracious appetite that can lead to entire bushes being stripped in a matter of minutes.
The two species are easily identified from each other but can be confused with other thrush species, the Redwing with the Song Thrush and the Fieldfare with the Mistle Thrush. The Fieldfare is the larger of the two species, being similar in size and posture to the Mistle Thrush, and with a distinctively contrasting grey head and rump. It is these grey areas along with its dark, shorter tail that distinguish it from the Mistle Thrush. Redwings are smaller than Fieldfares and have a less sleek and more rotund appearance. The easiest way to tell them apart from the similar Song Thrush is the presence of red under wings and flanks, from which its name's derived.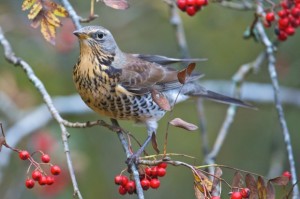 So if you happen to have a plentiful supply of berries in your garden, be sure to keep an eye on them and any hungry visitors, as they may not be there for much longer
Craig Shepherd,
Visitor Centre Assistant Manager.
Help protect Scotland's wildlife
Our work to save Scotland's wildlife is made possible thanks to the generosity of our members and supporters.
Join today from just £3 a month to help protect the species you love.
---
Preface
Woken up one morning to see your garden stripped bare, the berries that were there only hours earlier vanished? Thought something strange was going on? No need to panic! It's …