The Grey Phalarope first spotted in Arbroath on Tuesday has stuck around the local area, being found at Carnoustie from Thursday to Saturday, before moving up the coast to Westhaven today.  Being the first sighting of the species in Angus for 18 years, it has drawn bird watchers from far and wide. Grey Phalaropes are also know to be very tame and approachable, and this individual is no exception, allowing twitchers and photographers great views over the past week.  Below is a photo taken by one of our local members.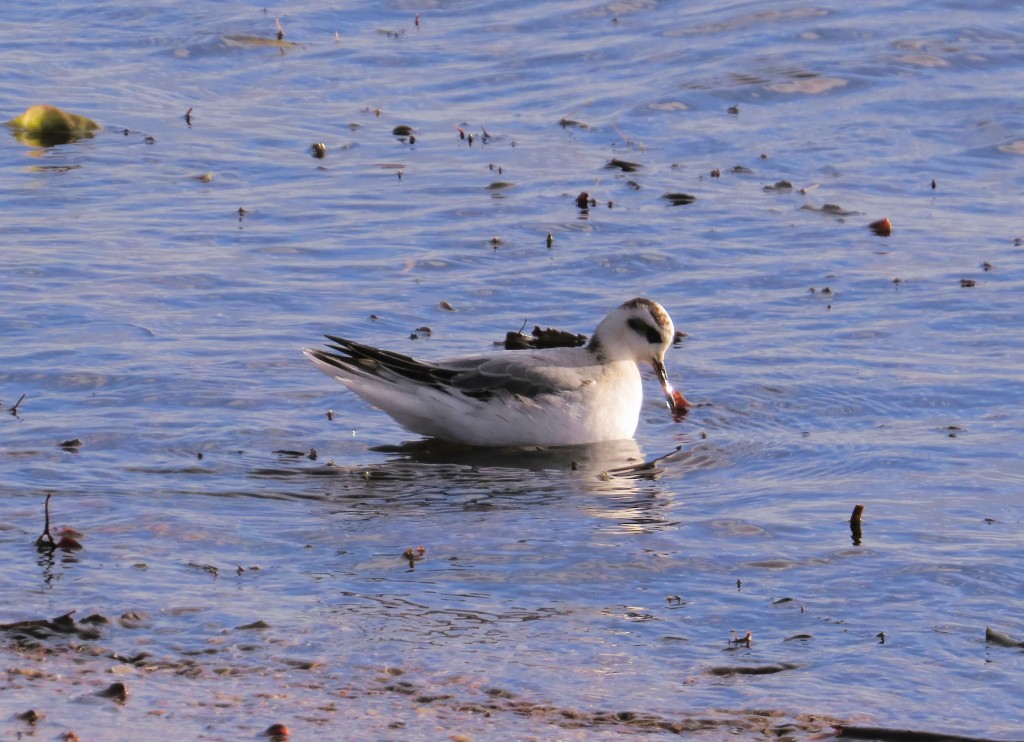 As you can see in the picture, the bird is predominantly white and grey in its non-breeding plumage, the form in which it's seen in almost all cases in the UK. When in breeding plumage, however, it turns to a stunning red, giving it the alternative name Red Phalarope. They breed in the high Arctic;  Siberia, Greenland, Alaska, Canada and Svalbard before migrating to the coast of South Africa and South America to overwinter. They are found far out at sea, spending most their time around cold upwellings, where food is plentiful.  Nearly their whole migration takes place over sea, one of the reasons why they are such rare visitors to our shores.  Migratory birds from Canada and Greenland fly past Britain and Ireland, but usually well out at sea, with storms being the most likely reason for them turning up on our shores. There are usually around 200 sightings of the species in the UK each year, with Autumn being the most likely time to see them.  Heading to the coast after strong westerly winds is your best bet, with only the strongest of gales taking them further inland. But one place you're guaranteed to see one just now is on Carnoustie/Westhaven beach, so better to get down soon before you need to wait another 18 years!
Craig Shepherd,
Visitor Centre Assistant Manager.
Help protect Scotland's wildlife
Our work to save Scotland's wildlife is made possible thanks to the generosity of our members and supporters.
Join today from just £3 a month to help protect the species you love.
---
Preface
The Grey Phalarope first spotted in Arbroath on Tuesday has stuck around the local area, being found at Carnoustie from Thursday to Saturday, before moving up the coast to Westhaven …