As Alex mentioned a wee while ago, fungi has become rather abundant on the reserve and now is a great time to go out and spot it. We've had such beautiful weather of late which means the fungi last a little longer and keep their colour better. Any bright looking fungi can lose there colour with the rain washing it out, so something that used to be vivid red would now pale in comparison.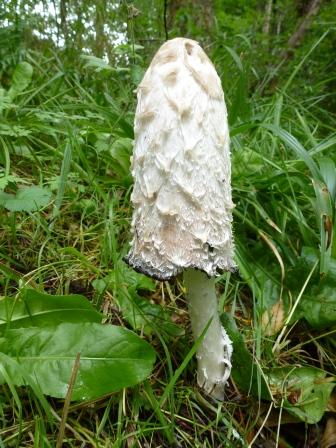 One of my favourites which is also edible is the shaggy ink cap, if that name didn't get you interested then what about its alternative – the lawyer's wig. It's a truly amazing fungi that oozes dark bluey/black ink as it decomposes. My boss just informed me that they managed to collect some ink from a shaggy ink cap and wrote with it using a quill. I think a conventional pen might work a bit better but wouldn't be half as fun!
Another fungi which I spotted recently in a nearby woodland is called porcelain fungus. As the name suggests – it looks like porcelain! The shiny appearance of this fungus is actually more of a slimy appearance. It is actually edible as well but I'm not sure I could get over the slime. It is quite easy to identify though – it is white, slimy, lives on dead beech wood (so look under large beech trees) and has a ring around its stem.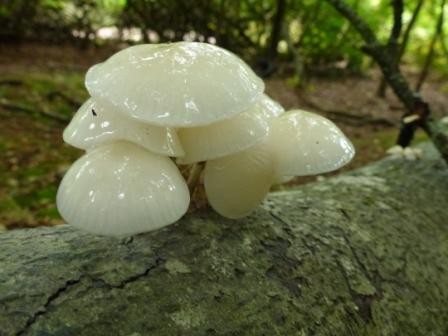 Remember to always seek out the advice of an expert if you want to find edible fungi and always wash your hands after handling any fungi.
Laura Whitfield – Falls of Clyde Ranger
Help protect Scotland's wildlife
Our work to save Scotland's wildlife is made possible thanks to the generosity of our members and supporters.
Join today from just £3 a month to help protect the species you love.
---
Preface
As Alex mentioned a wee while ago, fungi has become rather abundant on the reserve and now is a great time to go out and spot it. We've had such …