Osprey Diary 18th October
As our young Osprey Blue YZ nears the end of her mammoth first migration, it seems like a good time to look back on her achievement so far. Whilst it still remains to be seen where she settles for the winter, and there are lots more analysis and statistics we will be doing in the coming weeks, here are some  small insights so far:
Countries visited so far on route: 10 ( and within the UK she visited  Scotland, Wales , the Isle of Man and the Isles of Scilly).
Distance traveled so far: over 5,000km ( 3,200 miles)
Top speed: 49km per hour  on the 6th October in Morocco
Highest Altitude: 3380 meters, whilst crossing the Atlas mountains in Morocco on the 6th October.
There are  lots of questions still to be answered such as: Where will she settle for her first winter? Which country will it be: Guinea or Guinea Bissau or even Gambia or Sierra Leone?
Will she find a prime  spot on the coast or will she have to settle for an inland river territory like Blue YD?
Lastly, and most importantly of all, will she be able to stay out of trouble and survive her first winter?
We are so lucky to have this insight into her journey and especially lucky that out of the three young ospreys SWT has satellite tagged so far during this project, two are still going strong. This is an above average survival rate for juvenile ospreys , as we know at least half of chicks do not make it through their first year. Our luck is particularly highlighted by the sad news that our friends at the Lake District Osprey project in England have lost one of their young ospreys 'White 15'  just this last week in the same area of the Sahara that our Blue YZ crossed around the same time- presumably of exhaustion.
Meanwhile our 2012 chick from Angus,  Blue YD,  continues to haunt his usual area on the Senegal river, settling into the same habitual patterns as last winter. His recent movements are mostly in the same 10km square mile area around his favorite two bends of the river west of Podor. The only exception recently has been a random flight south west into the drier lands on the 15th of October- it looks almost as if he was heading back towards the coast again, but changed his mind.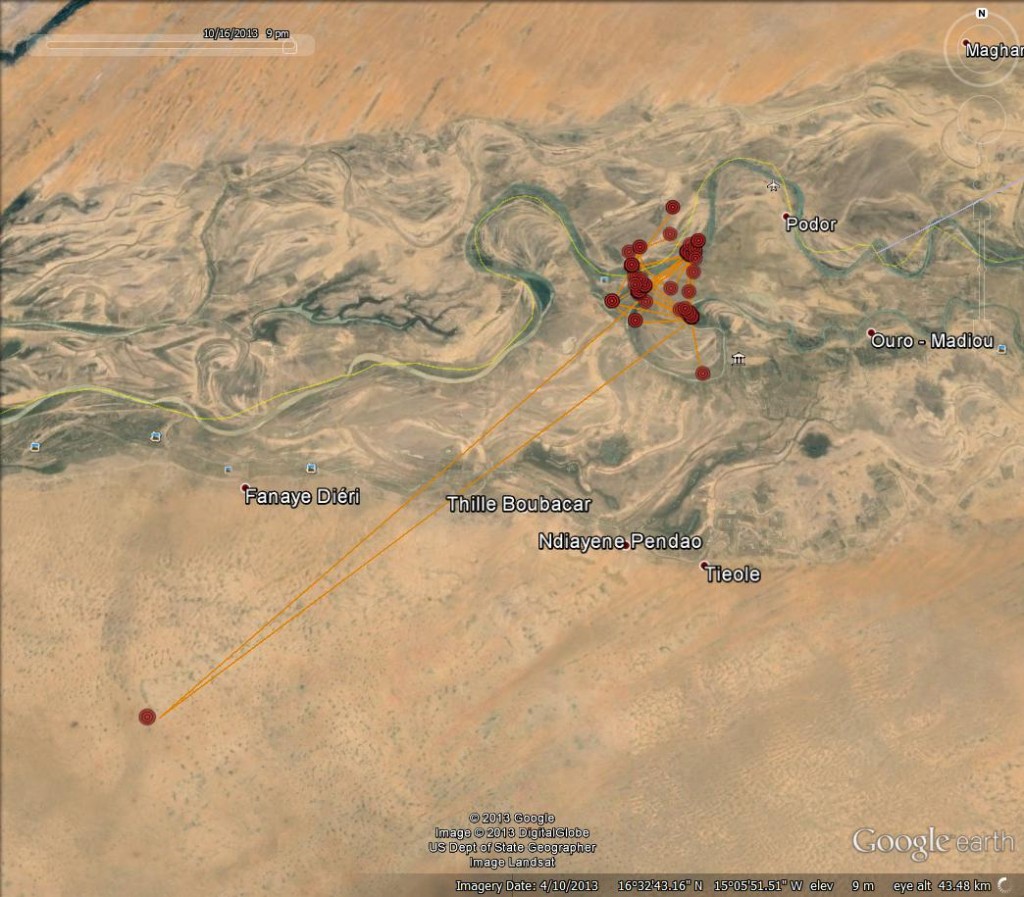 More satellite tracking data should be available on Saturday folks.
Ranger Emma
 
Help protect Scotland's wildlife
Our work to save Scotland's wildlife is made possible thanks to the generosity of our members and supporters.
Join today from just £3 a month to help protect the species you love.
---
Preface
As our young Osprey Blue YZ nears the end of her mammoth first migration, it seems like a good time to look back on her achievement so far. Whilst it …