Wildlife Diary Sunday 8th September
by Lindsey
Well Blue YZ is certainly getting on with her migration. After an overnight stay on the Isle of Man on Thursday she carried on past Wales through France and onto Spain in just three days. To compare this to last years chicks Blue YD was in Spain on his second day of migration making landfall to the east of Blue YZ whereas her brother Blue 44 was…. still in the north of England!
The Isle of Man regularly has migrating Ospreys stopping over on the way and Ian Pawson tells us she was in a deep sided valley which has trout in it so hopefully she refueled there.
She then skirted Wales before heading round Cornwall. We were initially surprised by this as it seemed an extreme dogleg for the journey but on examining weather records for the area it looks like there was very heavy rain and hail there so poor visibility so she was flying around that. She did a funny little double back on her way over which you'll see on the satellite tracking page which might also be to do with the weather. It just makes you realise how amazing Ospreys are that our chick can do that at such a young age.
After roosting in the north of  France near Ploudalmezeau, she headed over the Bay of Biscay on a mammoth 14 hour flight. She was roosting at 6am in woodlands near Ria de Villaviciosa, an estuary presumably full of fishy goodies but by 7am she was back on the move.
Her data shows she's been in flight more or less constantly since leaving Loch of the Lowes with her flight speeds ranging from 9mph over the Bay of Biscay to 46mph over the Celtic Sea. Her flight altitudes also vary from 120m in Spain to 810m over Wales.
Our next batch of data should be available on Tuesday so we'll see where she is then – will she be in Africa or will she stay in Spain? She's 100 days old tomorrow, I wonder where she'll be.
Our male was very  much in evidence yesterday but hasn't been seen today, it too early to say if he's left yet but the timing would fit. We know males often wait a couple of days after the chicks have left, perhaps to make sure they've gone.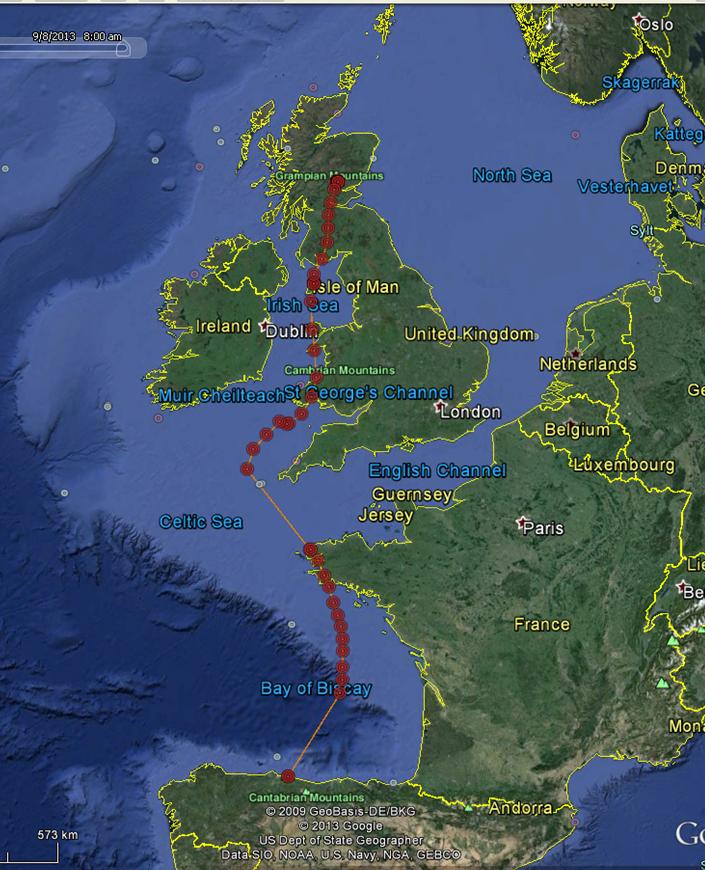 Help protect Scotland's wildlife
Our work to save Scotland's wildlife is made possible thanks to the generosity of our members and supporters.
Join today from just £3 a month to help protect the species you love.
---
Preface
by Lindsey Well Blue YZ is certainly getting on with her migration. After an overnight stay on the Isle of Man on Thursday she carried on past Wales through France …