Wildlife Diary: Sunday 1st September
by Lindsey
It's the first of September and according to the metrologists it's officially the start of Autumn and it certainly feels like it. The woodland birds at the feeders have been very busy today and we also had a surprise visit from a Roe Deer at the feeding station. It wasn't using the bird feeders though…
A Brown Trout has not long arrived at the Osprey nest and Blue YZ has disappeared to a new perch to eat it. Named 'The X Tree' by Natalie Wright, a sharp eyed visitor from Essex, this perch is to the left of the Skeleton Tree so to the far left of the nest. She's spent much of today sitting on it and the fact she's taken the fish over to it is yet another of her increasing independence. Today's Brown Trout is the 15oth of the season and takes his total fish catch to 414 so far so he's beaten last years total of 409. When he leaves I'll do a final fish pie chart and some analysis and comparision with last year.
Val mentioned in yesterday's blog about the '5 to 5' fish pattern that's been emerging and how we can't ususally tell what's going to happen. Kate, one of our volunteers, has spotted another pattern which is a bit further apart. Yesterday, 31st August 2013, the male arrived with a huge Salmon for chick Blue YZ to eat, last year on 31st August 2012 the male arrived with a huge Salmon for chick Blue 44 to eat!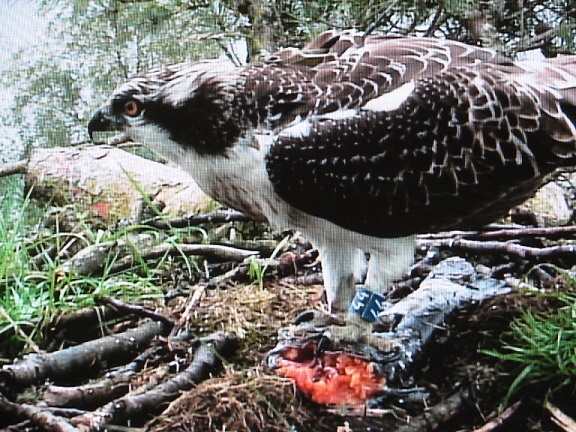 Help protect Scotland's wildlife
Our work to save Scotland's wildlife is made possible thanks to the generosity of our members and supporters.
Join today from just £3 a month to help protect the species you love.
---
Preface
by Lindsey It's the first of September and according to the metrologists it's officially the start of Autumn and it certainly feels like it. The woodland birds at the feeders …