Sunday 15th September: Blue YZ update
1pm
Afternoon everyone
We've just downloaded the latest batch of satellite tracking data and Blue YZ is …. still in Spain and heading back on herself. She left Embalse de Piedras, a reservoir, on the morning of the 13th and spent the rest of the day and the morning of the 14th at an unnamed loch and lochan nearby. She then headed back north, taking a different route to the one she took south. She wound up back at the Represa del Almendro dam, where she spent a few hours on the 11th. At most points she's stopped near water of some sort. The data shows she was roosting alot on the13th but also shows she was moving around from roost to roost. She's not gone any great distance. There are a number of data points missing from this batch of data, which not unusual, so we have no information from 1pm on the 13th to 8am on the 14th but its fair to assume she was hanging around the same loch. We're struggling to find much information about this area so if anyone has any do get in touch at lochofthelowes@swt.org.uk . If you follow the light orange line on the map below you can see her route back north. Has she found her roosting area for the next few years? We'll have to wait and see.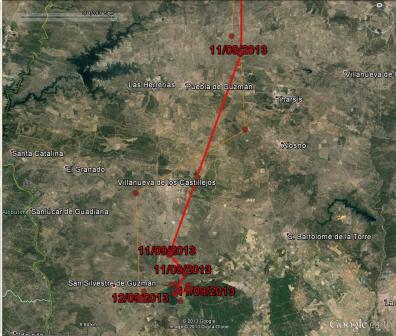 I'm just uploading the data to our website and it should be available in the next hour or so.
There's an interesting blog from Paul Wildlifewriter on 'The weather awareness of migrating birds' which uses Blue YZ, in particular her dogleg around Cornwall, as an example.
Lindsey
 
Help protect Scotland's wildlife
Our work to save Scotland's wildlife is made possible thanks to the generosity of our members and supporters.
Join today from just £3 a month to help protect the species you love.
---
Preface
1pm Afternoon everyone We've just downloaded the latest batch of satellite tracking data and Blue YZ is …. still in Spain and heading back on herself. She left Embalse de …