Wildlife Diary Thurs 8th August
Most days I love my job as a wildlife ranger, but today wasn't one of them- in fact it was soul destroyingly  depressing as I shall explain. . .
We recently joined forces with the owners of Craiglush loch, which is immediately adjacent and upstream of Loch of the Lowes, to help them better manage it for conservation. This loch not only contains many of the same rare water species as Loch of the Lowes, it is also part of the the same SSSI ( Site of Special Scientific Interest) and much of our wildlife use the two interchangeably, including the osprey , beaver and all our wildfowl.
As part of our fresh approach here, we organised a tidy up day along the roadside and the loch shore, with some of our hardiest volunteers . Due to the ignorance and indifference of humans, a staggering 16 large bags of rubbish were collected , as well as TV's , building waste, fishing line, tyres and even medical waste. All this from less than a mile and it  filled our large trailer to the brim as you can see below. What a staggering testament to peoples indifference and selfishness- this litter not only pollutes woods and water, it can  be life threatening to wildlife. To make it all worse, our charity now has to pay good money to dispose of all this dumped rubbish after we've worked so hard to clean up! All this on one of of Highland Perthshire's most beautiful lochs in  a National Scenic Area- appalling.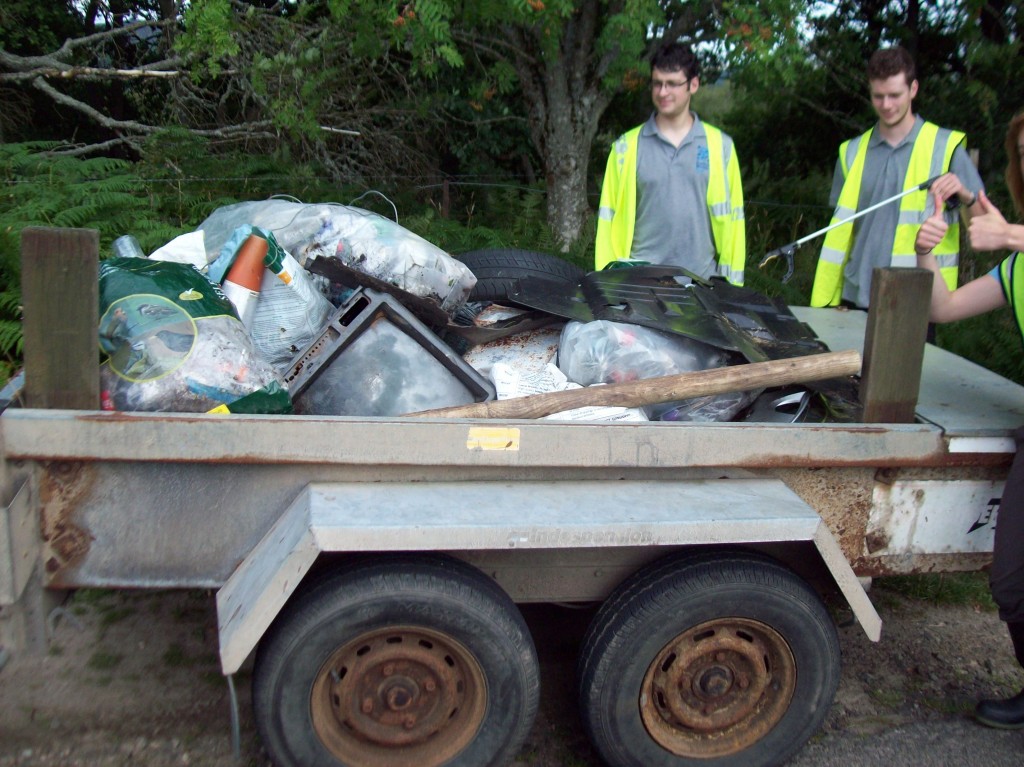 To add insult to injury, when we got back to base at the Visitor center this afternoon, we got a report of an injured Mute swan on the loch. It was immediately apparent that the birds was severely injured and in desperate trouble with a  fishing tackle and line entanglement. After a quick assessment for likely disturbance to our Osprey ( none where on the nest at the time) the ranger team launched a canoe to try to catch the injured bird.
The injures were horrific, with the birds head stuck pulled down to its neck and jaw dislocated, and blood all over the neck where the hooks had pierced its throat- the pictures are simply too awful to publish.
Despite our best efforts for over two hours and on both lochs, and those of the SSPCA officer who came to assist, we were unable to catch the poor bird. The bird will not survive unless it gets urgent veterinary help and we will be continuing to try to catch it. What if this had been an osprey – doesn't bear thinking about does it?
This is one of the reasons why there is no fishing allowed on this reserve ( to create a safe zone from such problems) and why lost fishing line and hooks are such an issue for wildlife- responsible fishermen do not leave such lethal hazards lying around our waterways.
Two examples of how human laziness, selfishness and ignorance can have such an affect on our wildlife- we can all help prevent these kinds of problems on our waterways and wildplaces.
Ranger Emma
 
Help protect Scotland's wildlife
Our work to save Scotland's wildlife is made possible thanks to the generosity of our members and supporters.
Join today from just £3 a month to help protect the species you love.
---
Preface
Most days I love my job as a wildlife ranger, but today wasn't one of them- in fact it was soul destroyingly  depressing as I shall explain. . . We …