Wildlife Diary Sunday 4th August
by Lindsey
Lots of intruder activity this morning with two of the regular intruders in plus two others. It's likely that the two 'new' intruders are Ospreys that have started their migration and their behaviour seemed to show that. Our female got rid of two of them with her usual delicate touch while the male did his usual approach of flying around with them! Our regular intruders are quite distinctive, one has missing wing feathers and the other missing tail feathers. They first started appearing about hatching time which suggests they may be a failed breeding pair who are hanging around waiting to migrate. They seem to come past to annoy the neighbours several times a week.
Last night our male brought in a huge Brown Trout, its been suggested that its a 'ferox' trout which colloquial name for massive brown trout that cannibalises everything in its loch so good news that our male caught it. It's likely to have come from one of the hill lochans nearby rather than our own loch. Thanks to our own Vall Gall for this superb photo of him bringing it in and to Kate Pringle for the photo of them tucking in to the huge Salmon on Friday.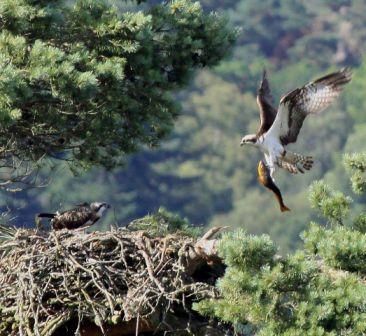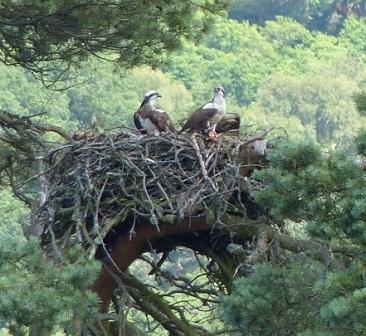 Our young female Blue YZ has continued her flying practice and today was looking very strong and confident. In answer to a number of queries – yes her landing has improved! She continues to use the Point Tree as her main perching place and treated us to fantastic flying display over neighbouring Craiglush. It's been challenging for her today at times as the winds have picked up and if she takes off at the normal point from the nest she'll fly straight into the wind. There were a few moments when it looked like she was going to get blown over until there was a brief break and she was able to get airborne.
There was a funny incident earlier when the male brought in a Pike and the youngster was eating it and the female wanted some and the chick wasn't letting her. Being our female she wasn't having that so firstly she started putting moss etc on Blue YZ's back and when that didn't work she took a stick in her beak and levered the chick up to get her to drop it. Amazingly that didn't work either, definitely her mother's daughter. So our female had to wait until Blue YZ had enough, but it didn't stop her telling her daughter to hurry up. That's one pair of fiesty females we have here.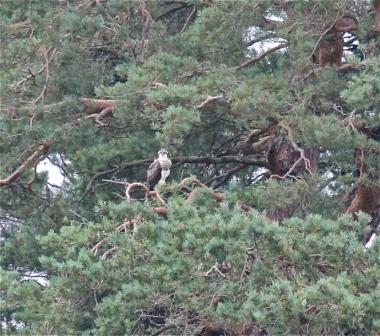 Help protect Scotland's wildlife
Our work to save Scotland's wildlife is made possible thanks to the generosity of our members and supporters.
Join today from just £3 a month to help protect the species you love.
---
Preface
by Lindsey Lots of intruder activity this morning with two of the regular intruders in plus two others. It's likely that the two 'new' intruders are Ospreys that have started …