Wildlife Diary Monday 5th August
by Lindsey
Blue YZ has had a bit of a day of it. She's been divebombed by an intruder Osprey and had a near miss with a Heron. She's spent much of the day on the Squinty Tree perch, a favourite of her parents and a new place for her. This morning both parents were on the nest alarm calling and mantling at the intruder, but it appears they can't see the Squinty Tree from the nest. The intruder Osprey divebombed the chick several times and you would have expected both parents to react fiercely but they didn't. Eventually the intruder got the message and left. Through out all this she pretty much stayed on the perch and stayed there when a Heron came right overhead and was ignored by the female. Given the dog fight with the Heron last week you would have thought they might have gone into battle but not this time.
The female spent much of this morning standing on the nest shouting for fish, which the male eventually obliged with a good size Brown Trout. In the afternoon it was the chick's turn to shout at Dad and she still shouting as I write. The male did land on the nest a couple of times but empty taloned, Blue YZ, showing the fiesty attitude we've come to expect, promptly pecked at him as she was so annoyed. He left shortly afterwards!
In other wildlife news I'm pleased to say one of our other Great Crested Grebe pairs has also successfully raised a chick so we have two black & white striped 'humbug' chicks on the loch. They're about half the size of an adult so too big for the Pike to take. We also had some Goldeneye on the loch for the first time in a while and our regular group of Tufted Ducks, Mute Swans and Mallards. Over at the feeding stations the Red Squirrels have been keeping us enterained by sitting inside the feeding boxes and occasionally poking a nose out, while the Yellowhammer, Siskin, Chaffinch, Great Tits, Coal Tits, Blue Tits and their young and Great Spotted Woodpeckers have been coming in and out.
Today's fabulous Osprey pics come courtesy of Colin Scott who was here a few weeks ago and caught the male removing the remains of the Great Crested Grebe nest and more recently catching Blue YZ in flight.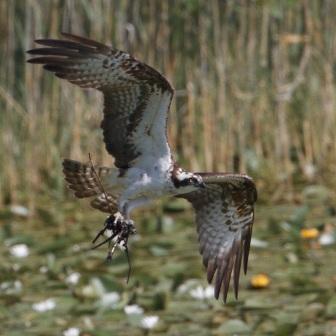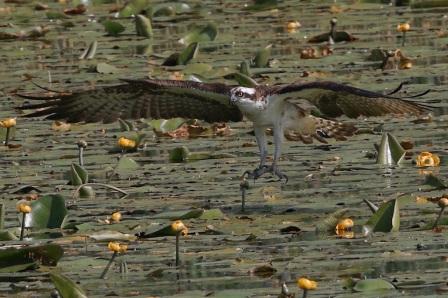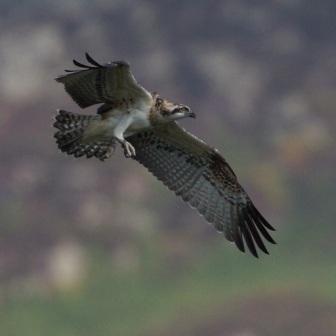 Help protect Scotland's wildlife
Our work to save Scotland's wildlife is made possible thanks to the generosity of our members and supporters.
Join today from just £3 a month to help protect the species you love.
---
Preface
by Lindsey Blue YZ has had a bit of a day of it. She's been divebombed by an intruder Osprey and had a near miss with a Heron. She's spent …