Cormorants (Phalacrocorax carbo)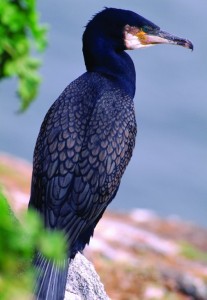 Large, predominantly black in colour (at least from afar), and with a distinctive spread winged stance, cormorants are one of the most conspicuous birds both at the Basin and along most of Britain's coasts and inland waterways.  Seen all year round, their numbers increase dramatically over winter, reaching around 35,000, and this (along with their supreme fishing abilities) has led calls for culls to occur in some of the populations found around Britain.
Yet, despite their large numbers, there are still many things we don't know about them.  The most intriguing is – why do they stand with their wings held out?  There have been a number of reasons put forward for this behaviour, and these include:
Wing-drying
Aid to food digestion
Signalling of foraging success
Balancing
Thermoregulation
While this is still debated, studies carried out on cormorant behaviour indicate that wing drying is the most likely reason.  Birds studied tended to face into the wind during the wing-drying period, with the duration of time needed for drying reducing when wind speed increased.  The time spent wing-drying was also seen to increase with the length of time an individual bird spent in the water.
It was believed that cormorants' feathers were naturally less water-proof than other aquatic birds.  However, the uropygial gland, or preening gland, has been shown to be of comparable size to other water based species, so it may just be the prolonged period of time a cormorant spend submerged in water that causes its feathers to become water logged.
The video below shows the grooming behaviour needed to ensure that the preening oil is spread throughout all the bird's feathers.
Georgina Bowie (Visitor Centre Assistant)
Help protect Scotland's wildlife
Our work to save Scotland's wildlife is made possible thanks to the generosity of our members and supporters.
Join today from just £3 a month to help protect the species you love.
---
Preface
Large, predominantly black in colour (at least from afar), and with a distinctive spread winged stance, cormorants are one of the most conspicuous birds both at the Basin and along …