Wildlife Diary Tuesday 2nd July
by Lindsey
A special guest blog from me today as Emma's just arrived back wet and cold from our Balnaguard reserve doing lots of exciting conservation work which she'll tell you about tomorrow.
There was great excitement today on the Great Crested Grebe nest as some visitors and I clearly saw broken eggshell on the nest. One of the adults was tidying the nest and handily threw it in the direction of the hides and telescopes. Had there been a hatching? We were on tenderhooks rushing to the camera and telescopes everytime they changed over. Finally we were rewarded with a view of … all three eggs, not a hatchling in sight. What we think happened is that the eggshell we saw was one of the earlier clutch that was predated by the crows. So the wait continues…
Over on the other nest our female Osprey has been hunkering down sheltering the chick from the rain. The chick is now too big to fit under its mum so she's been using her wings as an umbrella to shield it from the worst of the weather. The chick continues to be very active and mobile with lots of wing flapping which helps strengthen the muscles. There have been two fish in today, one Rainbow Trout and one Brown Trout. When he tried to land with the Brown Trout he struggled to land on the nest and had to try again, it looks like the wind was making it difficult for him to get into the nest. She left the chick on its own for a while today but she was nearby on the 'Boingy Branch' and had there been any threat she would've been back on the nest in a flash. She then treated us to a fantastic flying display around this end of the loch before returning to the nest.
At our woodland feeding stations we've had young Robin, Great Tit and Great Spotted Woodpecker in today along with Redpoll and Siskin. David's just popped in to tell me there's a male Chaffinch on the trees feeding his young which are doing a dance for him, a new version of singing for your supper?!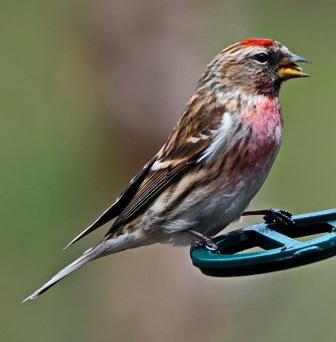 Help protect Scotland's wildlife
Our work to save Scotland's wildlife is made possible thanks to the generosity of our members and supporters.
Join today from just £3 a month to help protect the species you love.
---
Preface
by Lindsey A special guest blog from me today as Emma's just arrived back wet and cold from our Balnaguard reserve doing lots of exciting conservation work which she'll tell …