With summer here all the trees are covered with healthy greenery, including the many oak trees up on the reserve. However, if you look closely you may be able to spot some oak apples. These are large, rough, buffish-brown, galls found on oak twigs.
A gall is a growth of plant tissue caused by a parasitic organism's chemical or physical activity increasing the production of plant growth hormones. This can be a result of the activity of insects, mites, or fungi. An insect gall forms in response to a female laying eggs on the plant and the larva feeding on the plant tissue. The host's cells are enlarged so that the plant tissue surrounds the egg or larva which then feeds on the gall, protected from the outside world with a source of food provided.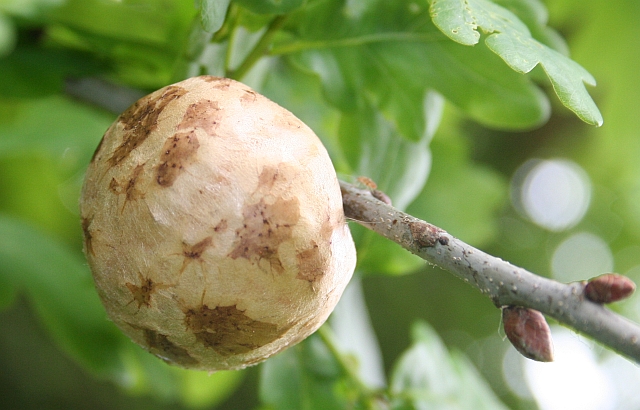 The oak apple gall is caused by the female common oak gall wasp which can often be found on oak twigs where she has laid her eggs inside the leaf bud. This then forms the large apple like galls. Inside there are a number of chambers, each housing a larva which gradually develops and eats its way out, emerging as an adult in June and July. Other galls found on oak trees include the oak artichoke gall and the acorn cup gall, but each of these has its own distinctive form.
These galls contain tannic acid and in the past this would have been used to make inks and dyes, and to tan leather. In folklore oak galls were used to predict the conditions for the year ahead. "If a 'worm' (maggot) is found inside the gall on Michaelmas Day (29th of September), then the year will be pleasant and unexceptional. If a spider is found, then it will be a bad year with shortages and ruined crops. If a fly (wasp) is found inside, then it will be a moderate season and if nothing is found, then serious diseases will occur all that year!"
Perhaps we should be using this method to see how next years weather will turn out.
Bye for now!
Alex Kekewich – Falls of Clyde Seasonal Ranger
Help protect Scotland's wildlife
Our work to save Scotland's wildlife is made possible thanks to the generosity of our members and supporters.
Join today from just £3 a month to help protect the species you love.
---
Preface
With summer here all the trees are covered with healthy greenery, including the many oak trees up on the reserve. However, if you look closely you may be able to …