Wildlife Diary Monday 3rd June
by Lindsey
Our new osprey arrival is thriving, looking strong and healthy and doing lots of food begging and so is being fed regularly. There's been four fish so far today three Pike and one colourful Rainbow Trout, one of the Pike turned up a mere 10 minutes after she'd 'ordered' it from him.   I say four fish but it turned out to be six as two intact, small fry appeared from inside the Trout! We know Trout eat smaller fish but for them to be undigested it meant they were high up the digestive track in other words they were a recent snack. In all her years of Osprey watching Emma's never seen this before, has anyone else?
So far no sign of pipping in any of the other eggs but this is only the first possible day for egg number four so there's still time.  Emma and I both thought we saw one of the eggs move independently but we can't be sure as it could've been residual movement from the chick or female.
This morning we were delighted to spot an egg on the Great Crested Grebe nest in the Lilypads, unfortunately this afternoon disaster struck. Both parents were off the nest briefly and a Crow swooped in and grabbed it. Initially they abandoned the nest but I'm pleased to say they were back on again in a few hours. They only laid at the weekend so there's plenty of time to lay more eggs.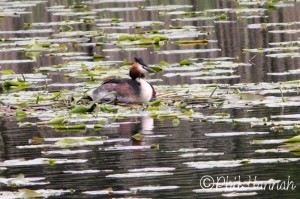 There's also been lots of other sightings including the female Otter and her cub on the canal cam followed soon after by a Beaver, the second time we've seen them within a short space of time. There were also 12 Goosander chicks with their mother swimming and ducking around the loch. The loch has millions of insects hatching from the water at the moment and the grebes and dozens of  Black-headed Gulls have been cathing them as a nutritious snack today.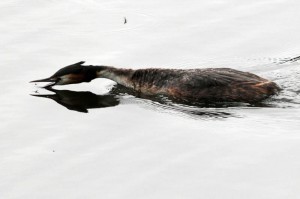 Emma the Ranger has been busy with the media today doing numerous TV and radio interviews, you can see and hear her tonight live at 6pm on STV news and tomorrow morning on Good Morning Scotland on BBC Radio Scotland.
 
Help protect Scotland's wildlife
Our work to save Scotland's wildlife is made possible thanks to the generosity of our members and supporters.
Join today from just £3 a month to help protect the species you love.
---
Preface
by Lindsey Our new osprey arrival is thriving, looking strong and healthy and doing lots of food begging and so is being fed regularly. There's been four fish so far …