Breaking News: Osprey chick hatches
After such a long and anxious wait , we finally have an osprey chick safely hatched at Loch of the lowes.
About 8.45am our wildlife Interpretation officer Val Gall and volunteer Rebbecca spotted the first signs in one of the eggs. This tiny hole and subsequent crack progressed remarkable quickly to a full hatching. The top came off the egg, and by about 10am the chick was free of the egg shell.
The male brought in a fish around 11.30am but the chick is yet to have its first meal ( this is normal as it still has some yolk internally to sustain it.)
More news soon.
champagne being cracked!
Update 4pm:
Celebrations all round here, with staff, volunteers and visitors alike glued to the sight of our first Osprey chick of 2013 here at Loch of the Lowes. We hope it might be joined in time by another sibling, but for now we are simply overjoyed with one healthy youngster on the nest.
We think this is probably egg number 3 hatching  'on time', rather than egg number 2 being 'late', but as the eggs are so hard to tell apart, we will have to wait and see if any of the others hatch to be sure.
The chick has already been fed twice by its mother , tiny amounts of shredded raw fish- you can see the female has stashed some fish , tucking it under her whilst incubating , to ensure there is plenty available to give the chick 'little and often'  meals.
 The chick looks strong and healthy, with its instinct to reach up for food just as it should be. It is absolutely normal for new hatched chicks to find it difficult to lift their heads up (weak neck muscles) and have poor balance.
 Thank-you to everyone who has called, emailed and tweeted- its lovely to know so many people worldwide are sharing our excitement and joy at this wee ones arrival. It's the birds who deserve the congratulations though- especially our remarkable veteran female, who has done it again!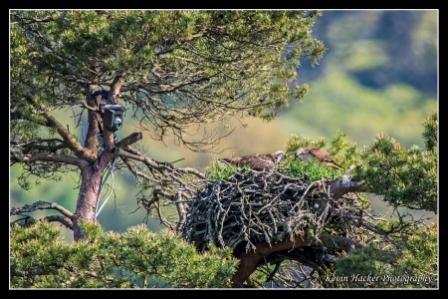 Ranger Emma
Help protect Scotland's wildlife
Our work to save Scotland's wildlife is made possible thanks to the generosity of our members and supporters.
Join today from just £3 a month to help protect the species you love.
---
Preface
After such a long and anxious wait , we finally have an osprey chick safely hatched at Loch of the lowes. About 8.45am our wildlife Interpretation officer Val Gall and …