Wildlife Diary Sunday 19th May
by Lindsey
It started out as a quiet day on the nest, no fish and just the occasional change over as normal. Then he did it again, he left the eggs unattended for about half an hour. She was actually sitting on the Squinty Tree ,which is very near the nest, preening but obviously hadn't seen him leave. It was only when he flew overhead that she raced back to the nest and settled down quickly all the time making it very clear she wasn't happy with him. He must've taken heed as he reappeared a short while later with a big Brown Trout, this was super quick as he left and returned with the headless fish 12 minutes later. Notably he found time to eat the head before he came back!
In other Osprey news Blue YD is still on the Senegalese Coast, he has been moving round a bit and last week he was only 100km from Dakar in the south and then only 10km away from St Louis in the north. He just seems to be cruising up and down the coast.
Congratulations to Glaslyn and Rutland Ospreys who've their first chicks, two at Glaslyn and one at Rutland so far.
In other wildlife news we're delighted that the Duckling's Den Mallard Chicks seems to be doing well with 10 of them skiting around the Visitor Centre and Loch. A Sedge Warbler and Common Tern were spotted from the hides and we had three Redpoll and a Wren at the Feeding Stations.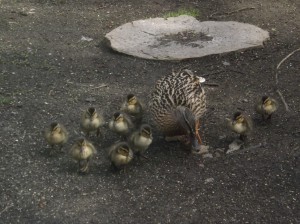 Help protect Scotland's wildlife
Our work to save Scotland's wildlife is made possible thanks to the generosity of our members and supporters.
Join today from just £3 a month to help protect the species you love.
---
Preface
by Lindsey It started out as a quiet day on the nest, no fish and just the occasional change over as normal. Then he did it again, he left the …