Wildlife Diary Monday 27 May
by Lindsey
It's been nice weather for ducks today but not for Ospreys and our female did a mammoth incubation session today for almost 9 hours keeping those precious eggs warm and dry. As a result we've hardly seen them today to check on their progress but their parents' behaviour suggests nothing is happening yet nd so the waiting continues. No fish in since 15:17 yesterday but she did disappear for over 2 hours this morning and hasn't been food begging so we suspect she's fished for herself.
Osprey Q & A
Q: Have Blue YD's parents returned to their same nest site again this year, and if so, are they currently incubating eggs?
A: They both have and they're about five days behind our birds here at Loch of the Lowes
Q: Will the number of nesting sites being provided in the South of England encourage the ospreys to stopoff there rather than fly further North to Scotland?
A: An excellent question, established pairs with their own nests will remain loyal to their existing sites but juvenile birds looking for their own sites will be tempted to stop there. However one of the attractions of Scotland, particularly the further north you go, is the long daylight in the summer which means much more time for fishing. At the moment we've only got about 5 hours of darkness a night, which is getting less as we near the longest day, so that leaves a whopping 19 hours for fishing. Further north this will be even longer and if there's three or four hungry mouths to feed in the nest the male is going to want all the fishing time he can get.
Showing the darker side of nature some of the duckling were in at the feeding station today when one of the male Mallards attacked them, killing one and running off with it in its bill. They have been known to eat them if they're hungry. This is likely to be an agressive response to chicks that aren't his, we see this in other species including Osprey where they will kick out eggs from the nest that aren't theirs.
The Great Crested Grebe pair are continuing to build their nest in the lilypads, unpreturbed by the weather so we hope they'll lay soon too.
Not an Osprey Q & A
Q: Are Red Squirrel's coats waterproof?
A: No but like many other mammals they have long guard hairs that wick the water away from the soft fur underneath. That's why Squirrels spend so much time under trees and staying out of the rain (including having a snooze in one of our Squirrel boxes!). We have seen one of our hardy regular squirrels sitting out in the rain determinedly eating their nuts while getting absolutely drookit.
I'm also pleased to say for the first time in a long time we have a new stock of Loch of the Lowes sweatshirts in Bottle Green and Maroon in sizes Small, Medium, Large and Extra Large for £18 and a limited stock of black Loch of the Lowes woolly hats for £7.99.  These can only be bought at the Visitor Centre and unfortunately cannot be sent by post.  Thanks to volunteer Bill for gamely modelling these items, unfortunately I managed to delete the photos so someone else got pressganged into doing it…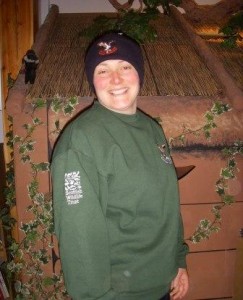 Help protect Scotland's wildlife
Our work to save Scotland's wildlife is made possible thanks to the generosity of our members and supporters.
Join today from just £3 a month to help protect the species you love.
---
Preface
by Lindsey It's been nice weather for ducks today but not for Ospreys and our female did a mammoth incubation session today for almost 9 hours keeping those precious eggs …