After a lovely sunny day yesterday, today was not so bright. It rained so hard for so long that the, new to this season, rain cover "sail" is no longer waterproof and the watch point floor is more a welcome site for a muddy bog dwelling goose than a peregrine watcher.
Fortunately, many webbed footed folk braved the wet and a few were very lucky to get a good look at the egg whilst the falcon was turning it. Both parents have been continuously inspecting the egg and being generally very restless on the eyrie, a good indication that there is a lot of activity in the egg and that it may hatch very soon. There were also further claims from both a soggy but sharp eyed volunteer and some visitors that they had seen a large crack in the top of the egg, a sure sign the wee eyass is getting closer to hatching out. I had no such luck in spotting the cracking in the egg. I was too busy battling the elements armed only with a sturdy sweeping brush to try and keep the rain from soaking peoples heads and feet.
For anyone who has forgotten what yesterdays sunshine felt like here's a lovely, if not rather rare and unusual, shot of the tiercel sunbathing.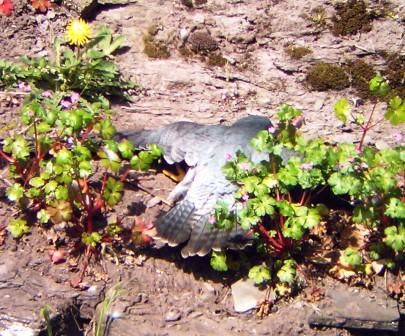 There are several ideas as to why birds sunbathe, some suggest it is to help clear mites or to aid straightening flight feathers, or simply because it just feels nice, ahhh. These could all be very true, but I think the main reason is that, like us, many animals depend on the sunlight to provide vitamin D which can be absorbed to aid with the growth of strong teeth and bones, and maybe even feather quills. The fact that the tiercel sits with wings outstretched, gives him a large surface area allowing him to maximise the amount of sunlight he can absorb. Other birds, in particular sparrows, thrushes and doves also indulge in this habit . It can be alarming to see a bird spreadeagled on the floor but don't be alarmed, they aren't necessarily injured, only enjoying some very welcome sunshine.
Hope to see you and the sunshine soon.
Adam Murphy – Peregrine Ranger
Help protect Scotland's wildlife
Our work to save Scotland's wildlife is made possible thanks to the generosity of our members and supporters.
Join today from just £3 a month to help protect the species you love.
---
Preface
After a lovely sunny day yesterday, today was not so bright. It rained so hard for so long that the, new to this season, rain cover "sail" is no longer …