The peregrine pesticide puzzle
A lot of visitors have been asking me why we only have 1 egg this year. It has been suggested that the cold spring weather has stressed the falcon when coming into breeding condition. Or perhaps it is a deliberate strategy by the peregrines so that after a miserable summer last year they are planning for another hard year ahead (lets hope that's not true).
However other Peregrines in the area who endured last year's wet weather are now sitting quite happily on 3 or even 4 eggs, albeit 2 weeks later than normal, which I do think can be attributed to the lingering winter weather.
Others have blamed the age of the pair, with the tiercel now at least 16 and the falcon 13. They are a more experienced pair but again other peregrine pairs of the same age are still going strong and continue to reproduce.
So what's the problem with the falls of Clyde pair? I recently had the pleasure of meeting George Smith of East Lothian Raptor Study Group.  George was the chap who had the daunting task of ringing the falcon as an adult, when she first appeared at falls of Clyde some 13 years ago and has ringed her offspring every year since. Its fair to say George knows the falcon very well and is as good a man as any to shed light on this current peregrine puzzle.
The falcon, as many followers will know, is very fond of eating feral pigeons. Feral pigeons typically eat crops, which are often sprayed with various pesticides and herbicides. These chemicals are present in the pigeon prey which the falcon eats. Unfortunately we believe that over time the amount of chemical build up in the falcon's system reaches a point where it has a detrimental effect.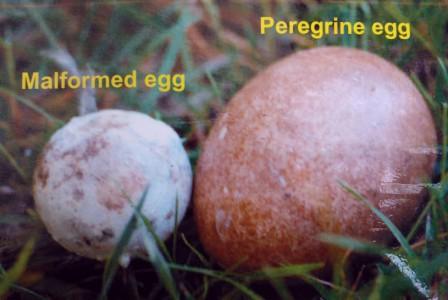 George believes, and he's convinced me, that this has started to show itself in the past few years, with the impact being on the falcon's egg laying success. In the two previous years the falcon has laid three eggs, but only two have been healthy. Evidence suggests that on both occasions the third egg has been malformed (see photo).  This year it appears the falcon has only managed to lay one egg, despite a continued effort to try and lay again.
As well as being a problem now and in the past for peregrines, pesticides are currently a hot topic, with the present decline in bees being linked to use of pesticides.
Hope to see you soon
Adam Murphy – Peregrine Ranger
 
Help protect Scotland's wildlife
Our work to save Scotland's wildlife is made possible thanks to the generosity of our members and supporters.
Join today from just £3 a month to help protect the species you love.
---
Preface
A lot of visitors have been asking me why we only have 1 egg this year. It has been suggested that the cold spring weather has stressed the falcon when …