Species profile – Sand Martin (Riparia riparia)

The smallest member of the European hirundines, sand martins are grey-brown above and white below, with a narrow grey-brown band across the breast separating their white throat from white belly.  While it's not always easy to distinguish this colouration while they are in flight, it is much easier to distinguish their call.  Repeated continuously during flight, it is a dry rasp often compared to the noise of coarse sandpaper, 'trrsh', which quietens when the individuals settle into a roost.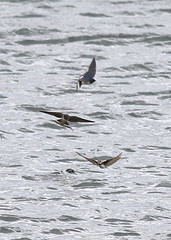 The species is tied to water throughout the year and is, therefore, usually found near bodies of water, such as rivers, lakes and even oceans.  This is because their food mainly consists of small aquatic insects such, as gnats, or other flies whose early development stages are aquatic.
Highly social-able, sand martins like to nest and roost in large numbers, the size of which depends only on the space available.  Their nests are located at the end of long tunnels, which can be up to a 1m long, excavated into sand or gravel banks with a chamber at the end.  This chamber is a hotbed for parasites, brought into the nest by the parents, which can have serious implications for the chicks.  At the moment the sand martins at the Visitor Centre are highly active feeding, but this will begin to change in mid to late May as they settle down to lay eggs.  Though it is uncommon for sand martins to lay a second brood this far north,  they have successfully done so here in the last two years and we hope that this year is no different.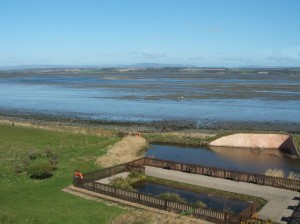 Sand martins tend to visit these shores between March and October, which is earlier than other hirundine members.  Despite their small size, around the same size as a robin or smaller, sand martins regularly fly large distances and those visiting us at the Visitor Centre have travelled around 3000 miles from sub-Saharan Africa.  Unlike most birds, sand martins migrate during the day to allow them to feed whilst on the wing.
While this species is not considered to be at risk of extinction, there are worries about the decline in the European populations as droughts in its African wintering ground have seen a large reduction in insect populations.
Ospreys are, of course, another bird seen regularly at Scottish Wildlife Trust sites which migrate to sub-Saharan Africa and back on a yearly basis.  To find how Blue YD is doing check out our Loch of the Lowes blog.
On other Scottish Wildlife Trust/ bird related issues, there seems to be some worry about the peregrines egg at the Falls of Clyde.  To find out what Adam, our ranger, thinks about it click here.
Georgina Bowie (Visitor Centre Assistant)
Help protect Scotland's wildlife
Our work to save Scotland's wildlife is made possible thanks to the generosity of our members and supporters.
Join today from just £3 a month to help protect the species you love.
---
Preface
The smallest member of the European hirundines, sand martins are grey-brown above and white below, with a narrow grey-brown band across the breast separating their white throat from white belly.  …