Wildlife Diary Sunday 7th April
by Lindsey, Wildlife Interpretation Officer
After this morning's excitement the Ospreys have settled down to their usual routine, she's on the nest and he's mostly on the Flat Top Tree.  He has been bringing sticks into the nest and doing a bit of housekeeping. There's been no sign of the new female since this morning. There have been a couple of fish deliveries one at 7:20am and one at 9:23am and she's currently standing on the nest shouting for more.
There was an interesting moment about lunchtime when she flew into  land on her usual perch, the branch that sticks up beside the nest. She barely landed on when she took off again and when we looked closer we realised part of the perch was missing. They had mated on the perch earlier on – perhaps the weight of two Ospreys was just too much for the branch!
It's been snowing for most of today so there's not much activity on the rest of the loch as all the other birds are going into survival mode.
Osprey questions – if you have a question do check out the Osprey FAQs tab at the top of the blog first which has a whole host of questions that have been asked. If that doesn't give your answer email Osprey@swt.org.uk
Today's most asked question:
Q: Could a male bird support two different nests?
A: It is possible for a male to have two different females on different nests, and there are reports of this happening but he wouldn't be able to support them past the egg stage as he has to put all his energy into feeding the female and chicks and having two lots would be too much. He would be a very very tired bird!
Here's some photos from this morning when the new female visited, thanks to Nigel Wedge for sharing these with us.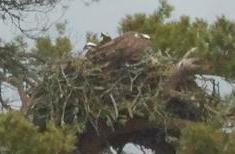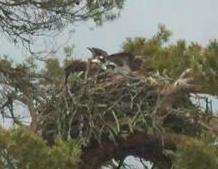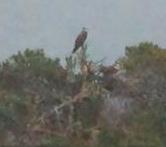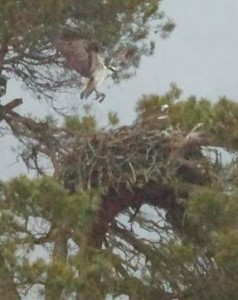 Help protect Scotland's wildlife
Our work to save Scotland's wildlife is made possible thanks to the generosity of our members and supporters.
Join today from just £3 a month to help protect the species you love.
---
Preface
by Lindsey, Wildlife Interpretation Officer After this morning's excitement the Ospreys have settled down to their usual routine, she's on the nest and he's mostly on the Flat Top Tree. …