Nightwatch Notes 17th April
With the sunrise gradually creeping forward, your S.P.O.'s have finally seen some daylight and with spring in the air, action on the loch is increasing.
No longer are we confined to night vision cameras and the sight of the resident female sleeping!
Watching the female through the night we've been amazed at the hardiness of ospreys. Not only do they fly great distances, showing great stamina, but they are capable of sitting out foul weather and will sleep in minus temperatures after arriving from the balmy heat of Africa.
The first week of the nightly watch was spent mostly watching the monitors and listening to the incessant din of the Black Headed Gulls. Now that the sun is rising earlier and the gulls have moved on we've been lucky to enjoy the loch at its most peaceful.
Our resident male likes to drop in for the first time at around 05.30, sometimes bringing the remains of a fish, sometimes some nest material. This is usually followed by an uneasy standoff and then a mating attempt before the male promptly leaves again. After re-arranging the nest the female leaves to spread her wings before returning to carry out the days chores (Generally begging for food and re-arranging anything the male has done to the nest.)!
In the last week we've been treated to the crazy mating dance of the Great Crested Grebes and the sight of the first swallows swooping across the loch, a sure sign that summer is finally on its way.
We've been compiling data provided by the whole osprey watch team and will be posting some summaries for you here. Today we've created a graph showing how many mating attempts our ospreys have been making per day.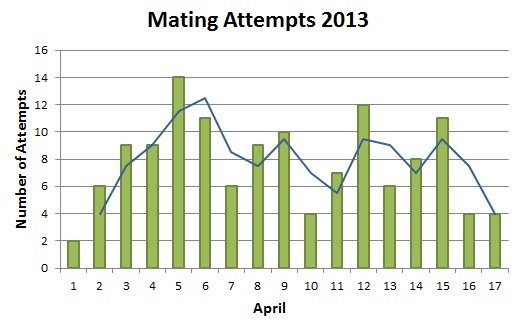 From Ainoa and Guy, Species Protection Officers, AKA the Nightwatch team
Help protect Scotland's wildlife
Our work to save Scotland's wildlife is made possible thanks to the generosity of our members and supporters.
Join today from just £3 a month to help protect the species you love.
---
Preface
With the sunrise gradually creeping forward, your S.P.O.'s have finally seen some daylight and with spring in the air, action on the loch is increasing. No longer are we confined …