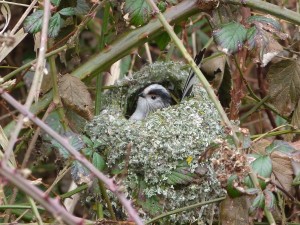 It might not feel it but Easter is on its way, and we're not the only species thinking about eggs.  Amazingly, some of our smallest bird species begin to lay their eggs in March, and if you've noticed a reduction in the number of blackbirds and robins visiting your garden, like we've noticed here at the Visitor Centre, it'll be due to those individuals deciding to nest early in an attempt to increase the number of broods they can raise in a year.  It's a risky business though; the unpredictable weather means that frost and snow can destroy the eggs, making it a very energy costly affair.  Other species, like the long-tailed tit, may not being laying just yet, but have already started the lengthy process of nest building.  And when you see a long-tailed tits nest you can understand why.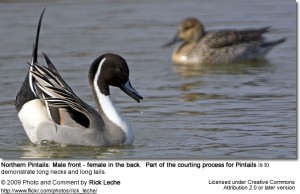 With the male red-breasted mergansers and goosanders both back in the Basin its worth looking out for their courtship behaviour.  Male goosanders will swim in rapid circles several times in front of the female before stretching their neck and bill upwards and calling, which could either be a twanging sound, a harsh croak or a bell-like note.  For male red-breasted mergansers courtship is more of a group affair, swimming in synchrony with their heads tucked into their shoulders, the crest raised and the bill pointed upwards.  The head is then shaken quickly from side to side, and raised and lowered towards the water with the crest raised high.  Another bird's courtship behaviour that can be spotted from our Visitor Centre is that of the pintail, where the male swims close to the female with his head lowered and characteristic pin tail pointed in the air, whistling throughout the display.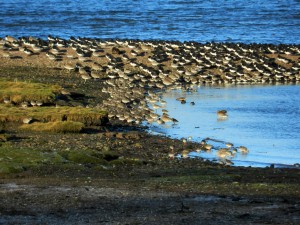 Of course, some of our species will be leaving the Basin to breed, and we're already beginning to see a drop in the wader numbers as they move up river to find suitable nesting sites.  While some will stay with us for another few months, it's definitely worth visiting us soon to see them in such numbers.
While our spring visitors haven't arrived yet, Loch of the Lowes has had their first osprey sighting, and you can find out more here.
To celebrate all things spring we're having a Family Fun Day on the 30th March, 1pm – 4pm, so why not come visit us and enjoy some Easter based activities as well as the possibility of seeing some courtship behaviour. (Normal Visitor Centre admission applies).
Georgina Bowie (Visitor Centre Assistant)
Help protect Scotland's wildlife
Our work to save Scotland's wildlife is made possible thanks to the generosity of our members and supporters.
Join today from just £3 a month to help protect the species you love.
---
Preface
It might not feel it but Easter is on its way, and we're not the only species thinking about eggs.  Amazingly, some of our smallest bird species begin to lay …