The past week has seen a host of first sightings on the reserve for 2013. On Sunday the 27th of January a Jack Snipe, Water Rail and Bullfinch were all seen from the centre within a few hours of each other.
The adult Water Rail was seen at the feeders just in front of the centre, with longer sightings now been possible due to the reeeds having been cut at the end of the year.  Water Rails are more likely to feed in the open in the autumn and winter with the onset of colder weather, shifting their diet from aquatic insects and larvae to include more plant matter.  Water Rails are residents in the UK and are monogomous, laying clutches of 6-11 eggs.  Last year on the reserve  a female was seen with 8 juveniles (see blog July 2012), so here's hoping for the same success this year!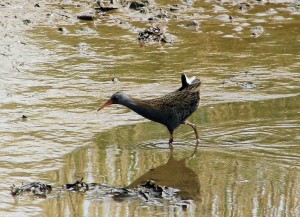 The Jack Snipe was seen in the salt pans, just to the right of the Visitor Centre.  Jack Snipes are the smallest of the two snipe species that can be found in the UK and and are also less common .  Other than its size it can also be distinguished from the Snipe by its shorter beak and dark crown, with the Snipe having a a pale crown stripe.  The Snipe seen infront of the centre was feeding at the side of a pond, showing its characteristic bouncing action as it fed, another way in which the species can be distinguished.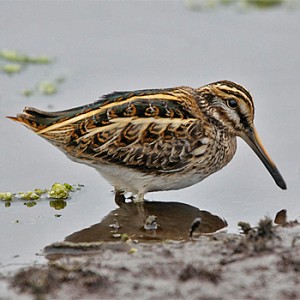 Despite being so brightly and beautifully coloured Bullfinch's are often rather elsuive, being hard to unless you know the right spot.  There haven't been many sightings on the reserve over the years, however a single male Bullfinch was seen on both the 27th of January and the 1st of February, at the feeders just infront of the centre.  Bullfinches are usually seen in pairs or small flocks, feeding on soft buds and small seeds from fruits on the wig, as they are unable to to pick seeds up from the ground with their blunt bills.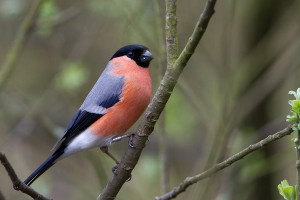 Craig Shepherd,
Visitor Centre Assistant Manager.
 
Help protect Scotland's wildlife
Our work to save Scotland's wildlife is made possible thanks to the generosity of our members and supporters.
Join today from just £3 a month to help protect the species you love.
---
Preface
The past week has seen a host of first sightings on the reserve for 2013. On Sunday the 27th of January a Jack Snipe, Water Rail and Bullfinch were all seen from the …