The good start to the year on the reserve has continued in the past week, with a host of good sightings being recorded. On Sunday 17th of February a juvenile White-Tailed Eagle visited the reserve, initially being spotted at around 8.30am and staying well into the afternoon.  The Eagle had red wing tags, indicating a juvenile that was released in 2011 by the East Scotland Sea Eagles (ESSE) project.  As was the case with last months sighting, the eagle was too far away for the lettering on the tags to be deciphered, so we were unable to identify the particular individual.  The juvenile was spotted in the centre of the Basin at low tide, sitting on a perch with carrion of some sort, before moving and settling on the mud flats elsewhere on the reserve.  If you are lucky enough to have a White-Tailed Eagle sighting here on the reserve or anywhere else, it can be reported to ESSE by downloading the form on their website http://www.rspb.org.uk/ourwork/projects/details/274707-east-scotland-sea-eagles-esse
Other sightings this week have included 2 Black-Necked Grebes, seen on the 23rd and 24th of February at Maryton Spit and numerous sightings of Long-Tailed Ducks, with a maximum of 7 being seen on the 24th.  The past week has also seen the return of our Kingfisher pair, with the male and female being seen (seperately) on the 22nd, 23rd and 24th after an absence of a few weeks.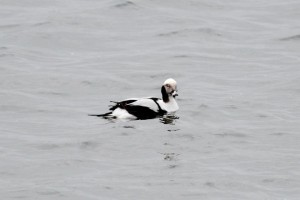 Return to Full Opening Hours
On the 1st of March the centre will return to full opening hours; 7 days a week from 10.30am to 5pm.  These opening hours will continue until the 31st of November.
The start of the new season also sees 2 new staff joining us at the Visitor Centre; Georgina (George) who was with us last year and will continue her post as Seasonal Assitant 3 days a week and Alison, who will start a 5 day a week post supported by the Community Jobs Scotland (CJS) fund.
Craig Shepherd,
Visitor Centre Assistant Manager.
Help protect Scotland's wildlife
Our work to save Scotland's wildlife is made possible thanks to the generosity of our members and supporters.
Join today from just £3 a month to help protect the species you love.
---
Preface
The good start to the year on the reserve has continued in the past week, with a host of good sightings being recorded. On Sunday 17th of February a juvenile …