Non-native wildfowl can be found all across the UK, and this week has seen the return of the Basin's most famous wandering wildfowl, the Black Swan.  Our regular visitor returned on the 30th of November after an absence of a few months, before which it was regularly seen on the basin for about 9 months.  Black Swans are native to Australia, but became popular as ornamental water birds in Europe and were first introduced to the UK in 1791, before escaping from private collections.  It wasn't until 1902 that the species was first recorded as breeding in the, and not until the last 20 years that it has began to breed at a higher rate.  However, to date the species hasn't been added to the authoritative list of birds found in the UK, due to its inability to establish a self sustaining population.
So what's the problem with black swans? As with many species of wildfowl the Black Swan has the potential to be an agricultural pest, grazing on fields, eating arable crops and fouling on the land.  But more importantly than that, it is much more aggressive than our native swan species, so worries are that they may out-compete them for resources.  However, at their current numbers, this isn't a worry, so at the moment it's safe to sit back and admire our wandering wildfowl.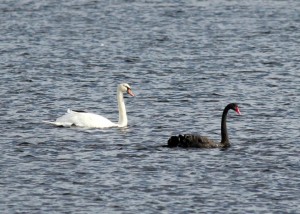 Other wildfowl species that have been introduced and become established in the UK include;
Canada Geese – First introduced in the 17th century and now present across most of the UK and abundant in the South of England. They make 'mock migrations' to the North of Scotland and can be seen in large numbers stopping off at the reserve in Autumn.
Egyptian Goose – Introduced in the 17th century, escaped from free-flying flocks on country estates and now commonly found in Norfolk.
Mandarin Duck – This distinctively plumaged duck was introduced to the UK from China into private collections and has since escaped from captivity. Most commonly found in central and southern England but small numbers occur in Scotland.
Ruddy Duck – Escaped from a reserve in Gloucestershire in the 1950's and now subject to a Government led eradication programme. This is due to the species ability to inter-breed with and therefore threaten the European population of White-Headed Ducks.
Wetland Bird Survey (WeBS)
Some of the high counts from the recent WeBS on the 23rd of November were; 2516 Wigeon, 1288 Shelduck, 980 Redshanks, 708 Eider, 534 Oystercatchers, 302 Knot, 208 Dunlins and 187 Curlews. Also counted were 47 Pintails, 28 Turnstones, 7 Whooper Swans and 1 Kingfisher.
Craig Shepherd,
Visitor Centre Assistant Manager.
Help protect Scotland's wildlife
Our work to save Scotland's wildlife is made possible thanks to the generosity of our members and supporters.
Join today from just £3 a month to help protect the species you love.
---
Preface
Non-native wildfowl can be found all across the UK, and this week has seen the return of the Basin's most famous wandering wildfowl, the Black Swan.  Our regular visitor returned …