Save Our Bees – A Scottish Wildlife Trust Campaign
Einstein once said, 'If the bee disappears from the surface of the Earth, man would have no more than four years to live.' Or did he? This quote was first written down forty years after Einstein's death, it appears to have been attributed to Einstein to lend it an air of authority. However, this doesn't mean that the quote doesn't have a grain of truth to it. One in three mouthfuls of food depends upon insect pollination.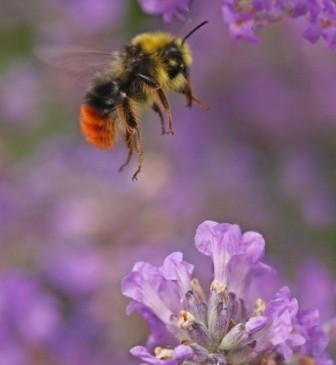 The Scottish Wildlife Trust recently launched a campaign to help save our bees. The Scottish Government is continuing to consent the use of neurotoxic chemicals known as neonicotinoids on Scottish crops despite the fact that scientific evidence shows that they are harmful to honey bees and bumblebees. We have written to the Cabinet Secretary for Rural Affairs and Environment, Richard Lochhead MSP, urging the Government to halt the use by farmers of all products containing neonicotinoids. Pollination is a vital ecosystem service worth at least £43 million per year to Scotland's economy.
What does all this mean exactly? Well, these neonicotinoids can damage honeybee and bumblebee health. The human version of what a bee suffers would be a really bad hangover; disorientation, lethargy and unable to fly and forage for food. The difference is that whilst we recover; bees eventually become paralysed and die, and with them goes our source of pollinating approximately one third of the food that we eat.
Join us by writing a letter to Richard Lochhead MSP, to ask the Scottish Government to call a halt to the use of neonicotinoids on crops in Scotland. Act now and visit www.scottishwildlifetrust.org.uk/savebees.
Laura Whitfield – Falls of Clyde Ranger
 
Help protect Scotland's wildlife
Our work to save Scotland's wildlife is made possible thanks to the generosity of our members and supporters.
Join today from just £3 a month to help protect the species you love.
---
Preface
Einstein once said, 'If the bee disappears from the surface of the Earth, man would have no more than four years to live.' Or did he? This quote was first …