Identifying Birds of Prey 3
In the last post I compared two species of falcon so this week I will be comparing two species of raptor, another large and varied bird of prey genus. Buzzards and red kites are often seen high in the sky using their broad wings to soar upon thermal columns of rising warm air. Both have fingered tips to their wings and even have similar mewing calls, but there are ways of telling the difference between them, one of which is by their tails.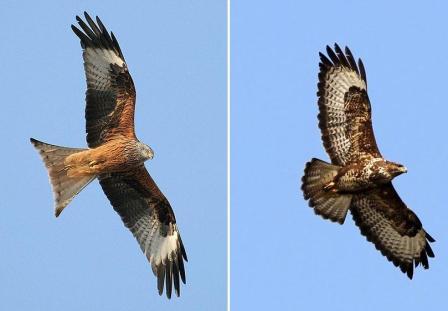 Buzzards are probably the bird of prey you are most likely to see, and no wonder since they are now the most widespread bird of prey in Britain! They are often seen perched on fence posts or dead branches for long periods of time. They have a short, rounded tail and the fingered tips of their wings are not as long as those of the red kite. They are usually a shade of brown but, plumage varies enormously from very pale to very dark, while the wings are barred and the tail banded. They are very common on farmland with nearby woodland for nesting.
Red kites have a very large wingspan, with bowed wings and a long, forked tail which allows them to twist and turn in flight. They are the closest bird we have to a vulture in Britain feeding on carrion. Their grey heads make them more distinguishable as well as the reddish plumage on the back and chest, with pale grey patches on the underside of the wings and tail. The populations in Britain are concentrated in the locations in England and Scotland where they were re-introduced, with the only population that survived persecution located in the oak woodlands of Wales, however they do seem to be spreading and the species as a whole are quite successful.
Bye for now!
Alex Kekewich- Assistant Ranger at Falls of Clyde
Help protect Scotland's wildlife
Our work to save Scotland's wildlife is made possible thanks to the generosity of our members and supporters.
Join today from just £3 a month to help protect the species you love.
---
Preface
In the last post I compared two species of falcon so this week I will be comparing two species of raptor, another large and varied bird of prey genus. Buzzards …