Identifying Birds of Prey 2
Continuing on from the last post, this week I will be giving some differences between hobbies and kestrals. Both these species belong to the Falcon genus, characterised by their sharp, arched talons, short hooked beak and large eyes for hunting. The two species are very similar when observed from below, and the easiest way to identify them is to observe their hunting habits.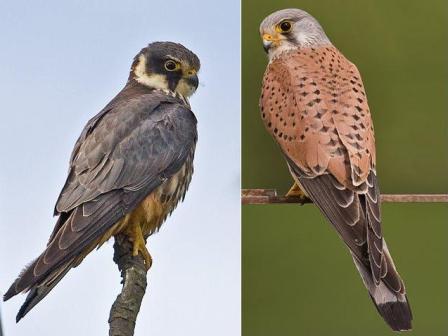 Kestrals are the most common raptor in Britain and can often be observed hovering by the side of the road hunting small mammals and after catching its prey it feeds on the ground. The female has barred brown plummage, while the male has a distinctive spotted orange-brown back and blue-grey plummage on the head and tail with a black band at the end of the tail. They nest in a variety of locations including trees, cliff edges and also man-made structures such as ledges on buildings.
Hobbies are rather rarer, and are usually only seen in Britain as a summer visitor to the South of England. They can be identified by features such as their sickle shaped wings and their distinctive plummage including dark moustache markings, white cheeks and reddish orange plummage on their legs. Unlike kestrals they hunt on the wing catching insects or small birds like swallows. These birds can be seen nesting in clumps of trees on heathland or farmland, but prefer lakes or flooded gravel pits for hunting.
Bye for now!
Alex Kekewich- Assistant Ranger at Falls of Clyde
Help protect Scotland's wildlife
Our work to save Scotland's wildlife is made possible thanks to the generosity of our members and supporters.
Join today from just £3 a month to help protect the species you love.
---
Preface
Continuing on from the last post, this week I will be giving some differences between hobbies and kestrals. Both these species belong to the Falcon genus, characterised by their sharp, …