Identifying Birds of Prey 1
Britain has various birds of prey species but telling them apart can prove difficult at times. Over the next few weeks I'll be giving some handy hints into spotting differences between similar species. Peregrines and Sparrowhawks are about the same size and have similar colouring to their feathers, as well as a noticable size difference between the sexes, the males being smaller in both species, but there are a few features which help when identifying between them.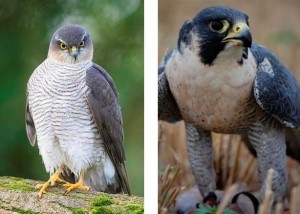 Peregrines have dark eyes and a characteristic mask as well as dark blue-grey upperparts and barred pale underparts. These falcons catch prey on the wing, steadily cruising higher up in the sky before swooping down at speeds of up to 200 mph to catch flying birds such as pigeons or starlings. They are usually seen on cliffs, mainly in coastal areas, but are known to inhabit lower lying areas further inland.
Sparrowhawks have distinctive yellow eyes, short rounded wings and a long barred tail. There is also more variation in colour between the sexes, males having upperparts which are a darker shade of grey and reddish brown underparts compared to the pale barred breast of the female. The Sparrowhawk also hunts small birds, using short bursts of speed in a low-level surprise attack in order to catch their prey. They can be spotted in woodland or farmland areas throughout the year.
 Bye for now!
Alex Kekewich -Assistant Ranger at Falls of Clyde
Help protect Scotland's wildlife
Our work to save Scotland's wildlife is made possible thanks to the generosity of our members and supporters.
Join today from just £3 a month to help protect the species you love.
---
Preface
Britain has various birds of prey species but telling them apart can prove difficult at times. Over the next few weeks I'll be giving some handy hints into spotting differences …