On warm, sunny days (if anyone can remember what those are), there is a good chance of spotting fearsome pond dragons around the reserve.
Pond dragons, or dragonflies, are truly deadly insects. The adults are aerial hunters, catching unsuspecting insects with their legs, which they hold like a basket to trap their prey. Dragonflies lay their eggs in water, which hatch to become larvae and are just as deadly as the adults. They feed on larvae of other insects, crustaceans, tadpoles and even small fish!
The term dragonfly can refer to both dragonflies and damselflies. The main differences between them are damselflies are smaller, they hold their wings together when at rest rather than spread out and their eyes are separated.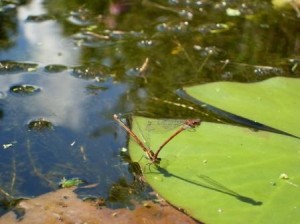 One of the best places to encounter dragonflies on the reserve is in the tree nursery near the power station. It looks like a little garden opposite the house along the track and has a small pond in it, which is a hotspot for them. This is where we managed to photograph this pair of large red damselflies (Pyrrhosoma nymphula) mating.
Bye for now,
Rhian – Seasonal Ranger
Help protect Scotland's wildlife
Our work to save Scotland's wildlife is made possible thanks to the generosity of our members and supporters.
Join today from just £3 a month to help protect the species you love.
---
Preface
On warm, sunny days (if anyone can remember what those are), there is a good chance of spotting fearsome pond dragons around the reserve. Pond dragons, or dragonflies, are truly …