Shieldbugs can often be found around the reserve. There are several species, with some very colourful and beautifully patterned examples.
The tell tale sign that a bug is a shieldbug is its shape: they are large and flat like a shield. They are also known as stinkbugs as they can release a horrible smell from scent glands on their thorax (the large body section between the head and abdomen).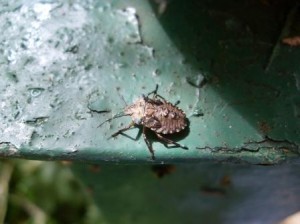 This particular shieldbug is a forest bug (Pentatoma rufipes). It's not quite in its adult form but is what is known as a final instar nymph. Instar just means the stages of development an insect goes through. These stages are normally defined by moulting.
Bye for now,
Rhian – Seasonal Ranger
Help protect Scotland's wildlife
Our work to save Scotland's wildlife is made possible thanks to the generosity of our members and supporters.
Join today from just £3 a month to help protect the species you love.
---
Preface
Shieldbugs can often be found around the reserve. There are several species, with some very colourful and beautifully patterned examples. The tell tale sign that a bug is a shieldbug …