The non-waterproof water bird
Cormorants are particularly striking when seen standing on water margins with their large, black, pterodactyl- like wings spread out.
They do this to dry out as they lack the waterproofing qualities of other water birds. If they didn't hang themselves out to dry on a regular basis, they would get cold and would be at risk of dying.
There may be an advantage to becoming waterlogged though, as the added weight of water helps them to sink so they can catch their prey with more ease.
Cormorants are fishers and typically feed on roach, perch and trout between 5 and 15 cm in length. Their appetite for fish can cause conflict with fishermen and fish farms. Cormorants can have a large impact on local populations of fish, but overall the effect of cormorants predating fish is not a cause for concern. Cormorants and fish follow a typical predator-prey cycle, with declines in fish populations causing a decline in cormorant numbers, rather than the other way round.
Once a bird of the sea, they are increasingly seen inland, including along the river at the Falls of Clyde. This change in behaviour has been linked to a number of factors.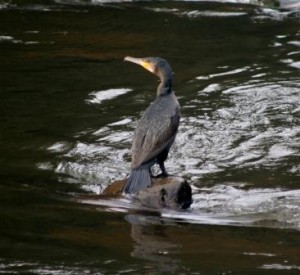 Since the 1960's the number of inland water bodies have increased due to the creation of reservoirs and the filling up of old quarries. These are often stocked with fish, creating good feeding opportunities for cormorants.
Pollution levels in rivers have also decreased considerably, creating more suitable habitat inland.
Finally, over-fishing of our fish stocks at sea may have removed the cormorants' normal food sources, forcing them to find food elsewhere.
The negative impact of human behaviour on our seas is a key concern for The Scottish Wildlife Trust and more information can be found on the website.
Bye for now,
Rhian – Seasonal Ranger
Help protect Scotland's wildlife
Our work to save Scotland's wildlife is made possible thanks to the generosity of our members and supporters.
Join today from just £3 a month to help protect the species you love.
---
Preface
Cormorants are particularly striking when seen standing on water margins with their large, black, pterodactyl- like wings spread out. They do this to dry out as they lack the waterproofing …