A grey heron has taken a liking for a spot of fishing, just outside the Visitor Centre.
These birds are unmistakable with their lanky bodies standing up to a metre tall. Despite their large size they can easily be overlooked due to their hunting techniques.
On finding a suitable spot on a riverside or lakeside, they stand stock still waiting for a fish to come within striking distance. They may spend much of their time looking inattentive but they are keeping a watchful eye out for their next meal.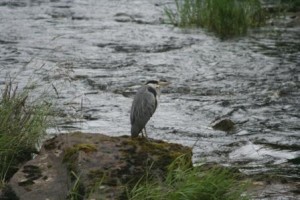 As well as fish, frogs and toads are also on the menu for grey herons. Typically they hunt for these in ditches and boggy areas. Recently a grey heron has been hanging around in the meadow, probably on the look out for some amphibian appetisers.
Although normally seen alone on the ground, these birds nest way up in the tree tops, often in colonies, known as heronries. They make an untidy flat basket of twigs to lay their eggs in.
In flight grey herons can be mistaken for large birds of prey due to their huge wingspan of up to 175 cm. The very bowed shape of their wings as they fly, gives them away though.
There has only been one grey heron hanging around, but the collective name for herons is a siege, so if more turn up it will be official!
Rhian – Seasonal Ranger
Help protect Scotland's wildlife
Our work to save Scotland's wildlife is made possible thanks to the generosity of our members and supporters.
Join today from just £3 a month to help protect the species you love.
---
Preface
A grey heron has taken a liking for a spot of fishing, just outside the Visitor Centre. These birds are unmistakable with their lanky bodies standing up to a metre …