It is currently raining here at the watch point, so the tiercel is sheltering on the cliff after a hard days hunting. The falcon is sat on the chicks keeping them warm. For once both the birds are settled and there is calm in the gorge. Those who were still determined to enjoy the outdoors today despite the weather, have been rewarded with great views of both birds.
I think the tiercel's weather forecasting was spot on today. While it was dry this morning and early afternoon he went on hunting overdrive. During this time he caught 2 starlings and a pigeon. Recently he has been mostly choosing starlings, but I think his vitali organ (discussed 7th of April) was telling him to go a slightly different route today. A Pigeon is 3 to 4 times the weight of a starling and can last the peregrines much longer. By catching the pigeon this afternoon he was able to sit out the rain and the chicks remained well fed!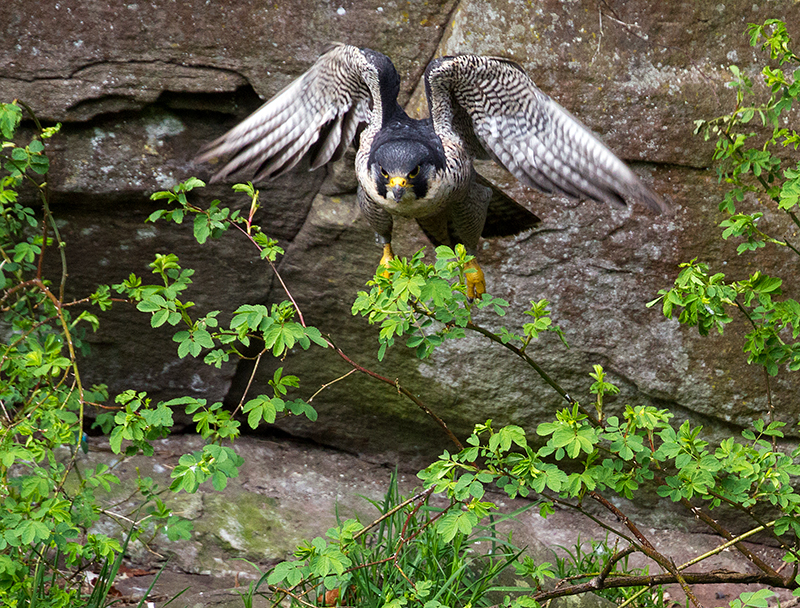 The pair were squabbling over food again today, this time over the pigeon. The argument was resolved in the usual way, with the falcon ending up with the prey item. It seemed she wanted to store it herself. This seemed to backfire later on as she was begging for food from the eyrie, but the tiercel would not be moved. It is possible he did not know where she had stored the carcass and this was the reason he did not go to get it himself. Or he was sulking, for having a well caught pigeon taken from his talons!
When the chicks are fed, you can now get a good view on our webcam. This is due to them nearing 3 times the size they were when they hatched. It's the high protein diet! They are usually fed 4-6 times a day depending on the size of each sitting. The chicks are usually fed until they are full and stop begging. Sometimes however, there may only be the remains of carcass retrieved from the larder. This may not be enough to fill the chicks. It may appear occasionally that one chick is being fed more, but she is very good at sharing it out and each is usually fed equal over the sitting.
Tom Wells – Peregrine Protection Officer
Help protect Scotland's wildlife
Our work to save Scotland's wildlife is made possible thanks to the generosity of our members and supporters.
Join today from just £3 a month to help protect the species you love.
---
Preface
It is currently raining here at the watch point, so the tiercel is sheltering on the cliff after a hard days hunting. The falcon is sat on the chicks keeping …