Peregrines and Osprey Galore, who cares about the rain!
I have always said that don't let the rain stop you from heading out to watch wildlife, you will often be rewarded! This evening the Falcon was giving her alarm call from the nest (sign of trouble) and the tiercel shot up from the cliff, making me think we may have another intruder. To my shock an Osprey flew right past the eyrie! Despite it dwarfing the male peregrine in size he chased it closely up river. Soon it was tired of this attention and lifted to fly out above the trees. A truly awe-inspiring and completely unexpected turn of events. To see a peregrine and osprey in close quarters was a special moment, 2 hooked beaked hunting masters of their very different quarries.
The tiercel really did look tiny in comparison, he was flapping like mad to keep up with the Ospreys slow graceful wingbeats. Our tiercel's wingspan is around 90cm whereas the Osprey is almost double this size! Ospreys are fish eaters and this one was possibly hoping to find a trout or pike in the clyde. The tiercel has been on this territory without leaving since 2000, a true residant. The osprey may have been to Africa and back a number of times. Two completly unrelated species and in most respects completly different lifestyles, but both the best at what they do.
Back to our eyasses then, who probably didn't take any notice off all the comotion having just been fed! They are both growing and feeding well. I have to say that when I envisage watching growing chicks, I tend to think of warm spring days with new green leaves on the trees. The temperature today was on average lower than that on Christmas day 2011 and the leaves are only just starting to appear on the trees bordering the peregrine watch point! Seasons seem to be a thing of the past….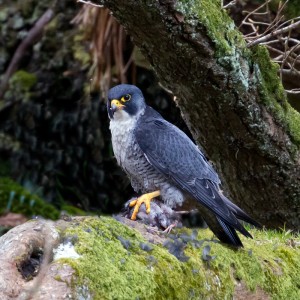 The male managed to hunt in the slightly drier periods of today, but again did most of his hunting this morning when there was no rain! For a slight change one of his prey items today was a blackbird, slightly heavier than a starling. With the size of the chicks now (almost 4x that of when they hatched!) he needs to be catching at least 4 starling sized birds a day to feed the family. At this stage with their rate of growth the eyasses need slightly more food than the adults, despite being smaller than them (at the moment…..)
Tom Wells – Peregrine Protection Officer
Help protect Scotland's wildlife
Our work to save Scotland's wildlife is made possible thanks to the generosity of our members and supporters.
Join today from just £3 a month to help protect the species you love.
---
Preface
I have always said that don't let the rain stop you from heading out to watch wildlife, you will often be rewarded! This evening the Falcon was giving her alarm …