Falcon Stretches Her Wings Once More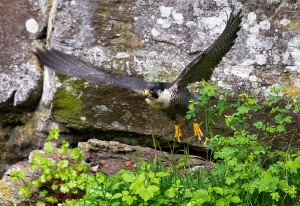 The falcon has started to feel comfortable leaving the chicks for up to an hour, which yesterday evening was enough time (she was actually back in 30 minutes!) for her to catch a pigeon. She is such a great hunter and tends to come back more often than not with her favourite prey item!
This got me thinking about peregrine hunting success rates. Unfortunately there doesn't seem to be a definitive answer to this, but looking through scientific studies 20-25% of hunts (one in 4/5) ending in a kill seems to be the average find. So this means when out hunting on average she will need to go on 4 to 5 hunting stoops to be successful. Before the falcon had started hunting the tiercel was bringing in up to 5 starling sized birds per day, so may have had up to 25 hunts (which can be at least a mile in distance) a day. For an old man, he is still living a very fast lifestyle!
Peregrines rely on ambush, the element of surprise, when hunting so often a pigeon will not see our falcon coming and will be dead in milliseconds of the impact. Sometimes a pigeon (particularly the fit and aware individuals) will detect it's pursuer and will drop away at the last minute. A peregrine will then assess the situation and way up whether it is worth continuing to chase it's quarry. Often a pigeon at the top of it's game can out fly and out manoeuvre a peregrine. The best hunters know when to give in and start again.
As with many traits, hunting success differs with individuals. It's quite possible our falcon and tiercel have a higher stoop to kill ratio than mentioned above. To hold this territory and raise so many chicks they are both strong and very fit individuals. There was one american tiercel appropriately named the red baron, who was recorded to have a 93% success rate. I like to think at least one of our pair could rival this!
The chicks continue to grow at an resounding rate, the falcon has started struggling to be able to sit on them comfortably!
Tom Wells – Peregrine Protection Officer
Help protect Scotland's wildlife
Our work to save Scotland's wildlife is made possible thanks to the generosity of our members and supporters.
Join today from just £3 a month to help protect the species you love.
---
Preface
The falcon has started to feel comfortable leaving the chicks for up to an hour, which yesterday evening was enough time (she was actually back in 30 minutes!) for her …