Pair left in peace today!
To the relief of our peregrines, they weren't bothered by any intruders today! The female did much of the incubation, the tiercel on for just a couple of hours. To be fair to him, during her first stint on the eggs today he actually flew to the eyrie calling, looking like he wanted to go onto the nest. The falcon, however called back to him with what must have been peregrine for 'no' and he continued on his way. The male brought in a feral pigeon just prior to this, which he went on store in one of their food caches.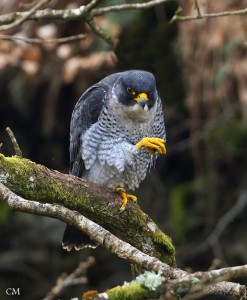 Both birds still have a lot of incubating ahead of them, we expect the eggs to hatch in the first week of May. As is usual with most pairs, in previous years the falcon has done most of the incubation in the 2 weeks or so prior to the eggs hatching.
The temperature has dropped quite a lot over the last couple of days. Both adults have been sitting tightly on the eggs making sure they keep warm. As with the bodies of all endothermic (warm blooded) animals, to remain alive the developing embryos need to be kept within a small variation (no more than a 2-3 degree change) in temperature. For birds this tends to be around the 40 degrees mark. The eggs will develop quicker the warmer they are kept, but they cannot get too hot otherwise the embryo will die. The adults turn the eggs to help maintain a constant temperature within.
As I mentioned in an earlier post, the east facing eyrie helps the adults to warm the eggs in the morning sun. The ledge they are using this year has been the most popular over the years, this is likely due to the amount of space the chicks will have to move around. It is also mid way up the cliff making it more inaccessible from both the base and the top. The parents will have also decided that it is not too exposed to the elements.
The reason our pair don't use this ledge every year is because they like to give ledges years off. It is thought that this is so it has chance to clean. This increases the likelihood that parasites and bacteria, associated with the chicks their droppings and left over meat, will have died off.
Tom Wells – Peregrine Protection Officer
Help protect Scotland's wildlife
Our work to save Scotland's wildlife is made possible thanks to the generosity of our members and supporters.
Join today from just £3 a month to help protect the species you love.
---
Preface
To the relief of our peregrines, they weren't bothered by any intruders today! The female did much of the incubation, the tiercel on for just a couple of hours. To …